<div style="background-image:url(/live/image/gid/6/width/1600/height/300/crop/1/30027_self_designed_major.rev.1451946126.png)"/>
<div style="background-image:url(/live/image/gid/6/width/1600/height/300/crop/1/30024_area_studies.rev.1451945934.png)"/>
<div style="background-image:url(/live/image/gid/6/width/1600/height/300/crop/1/30485_library.rev.1454952369.png)"/>
<div style="background-image:url(/live/image/gid/6/width/1600/height/300/crop/1/29871_papers.rev.1452013163.png)"/>
<div style="background-image:url(/live/image/gid/6/width/1600/height/300/crop/1/29873_header-aerial.rev.1450206652.jpg)"/>
<div style="background-image:url(/live/image/gid/6/width/1600/height/300/crop/1/30025_education.rev.1451945980.png)"/>
<div style="background-image:url(/live/image/gid/6/width/1600/height/300/crop/1/30028_english-_literature.rev.1452013046.png)"/>
English and Creative Writing
Galerie de Difformité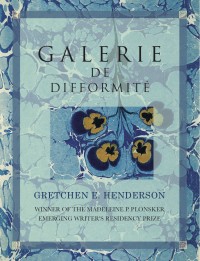 Buy the book from: 
Galerie de Difformité (October 2011)
A mysterious bone with a heart-shaped hole.

Traces of many books masque themselves inside Gretchen E. Henderson's Galerie de Difformité. With the head of a novel and the body of a poem, this extraordinary work interrogates the nuanced concepts of ability/disability, voyeurism/exhibition, deformity/normality—all with a wry sense of self-representational humor.
A lineage that bequeaths mysterious relics to an unsuspecting recipient, led through a textual labyrinth by Bea: a deformed reincarnation of Dante's muse.
The story-within-a-story takes shape through the mysterious "Undertaker"—a perhaps reanimated-yet-disabled Beatrice, intertwined with the contemporary Gloria Heys and the presumed publisher, Gretchen Henderson.
An infamous brotherhood called Ye Ugly Face Clubb.
Lushly designed with crowdsourced images, text deconstructions, and enough narrative tomfoolery to make Tristram Shandy blush, the Galerie is both funhouse and curiosity cabinet, art catalogue and "choose your own adventure." This bestiary of the novel-as-poem-as-essay-as-art grows outside of the bounds of the Book and, in the process, redefines deformity for the digital millennium.
What a work! …. The "book" explodes across distributed platforms and media, with a digitally networked existence that simultaneously builds on and destroys the integrity of the print object.

—Johanna Drucker, author of The Century of Artists' Books and The Alphabetic Labyrinth
    
Galerie de Difformité is a cabinet of curiosities of things deformed, disabled, reformed and enabled.…A book that combines the metacriticism of Tristram Shandy with the randomness of a complex video game, Henderson has created a unique work that aims at being extraordinary, arcane, and eminently accessible.  A book you won't forget.
—Lennard J. Davis, author of Enforcing Normalcy and Bending Over Backwards: Disability, Dismodernism, and Other Difficult Positions.
Far from ending, deformation of the Galerie de Difformité has only begun.
Gretchen E. Henderson received the 2010 Madeleine P. Plonsker Emerging Writer's Residency Prize for Galerie de Difformité and was recently awarded a Mellon Postdoctoral Fellowship from MIT.
Check out the Galerie de Difformité facebook page here.
Literature
October World              First Publication   6 1/2 x 8 1/2   268 pages
Paper ISBN:  978-0-9823156-3-7   0-9823156-3-5              $15.00