<div style="background-image:url(/live/image/gid/29/width/1600/height/300/crop/1/29900_english_header_-_writing.rev.1450298140.png)"/>
<div style="background-image:url(/live/image/gid/29/width/1600/height/300/crop/1/29899_english-_literature.rev.1450298125.png)"/>
English and Creative Writing
Davis Schneiderman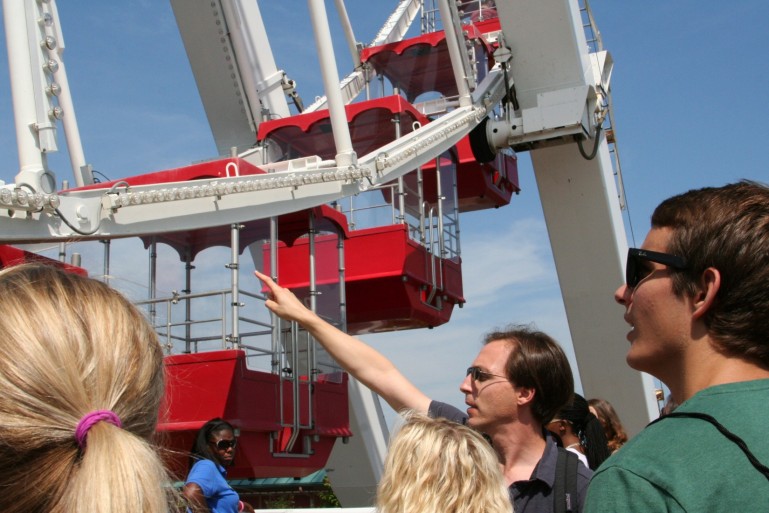 On a trip to Navy Pier in Chicago, Professor Schneiderman talks about the world's first Ferris Wheel during the 1893 World's Columbian Exposition.
Krebs Provost and Dean of the Faculty 
Professor of English
Director, Lake Forest College Press / &NOW Books 
Please see my website for current projects
Teaching and Research Interests
Digital Humanities, Remix/Mash-Up Culture, Uncreative/Creative Writing, William S. Burroughs, Postmodernism, Innovative and Avant Literature, American Literature/Culture, American Studies / Chicago Literature and History, World's Fairs, Selfies/Drones, the Grateful Dead and American Culture
Education
Ph.D. Binghamton University
MA Binghamton University
BA The Pennsylvania State University 
Edited Collections 
The Exquisite Corpse: Chance and Collaboration in Surrealism's Parlor Game. Eds. Kanta Kochhar-Lindgren, Davis Schneiderman, and Tom Denlinger. U. of Nebraska Press, 2009.
Retaking the Universe: William S. Burroughs in the Age of Globalization. Eds. Davis Schneiderman and Philip Walsh. Pluto Press, 2004. Reality Studio, 2014.
Novels 
Ink. Seattle: Jaded Ibis Press, 2016
[SIC]. Seattle: Jaded Ibis Press, 2013
Multifesto: A Henri d'Mescan REMIX. New York: Spuyten Duyvil Press, 2006, 2013.
Blank: a novel. Jaded Ibis Press, 2010
Drain. Northwestern University Press, 2010
Abecedarium. (with Carlos Hernandez). Portland: Chiasmus Press, 2007 
Series Editor/Editor 
The &NOW AWARDS: The Best Innovative Writing. Ed. v.1 (2009), 2 (2013). Series Ed. v.3 (2015)
Federman, Raymond. SHHH: a novel. Introduction. Editor. Starcherone Books, 2010
Selected Scholarly Articles 
"The Miraculous and Mucilaginous Paste Pot: Extra-illustration and Plagiary in the William S. Burroughs Legacy." The Journal of Beat Studies. 1.2 (2013): 53-80
"Raymond Federman and the Pla(y)giarism of Re-Writing." Federman at 80: From Surfiction to Critifiction. Ed. Jeffrey Di Leo. (SUNY Press, 2011) 
Selected Recent Creative Work (text/audio) (100+) 
Earlier works in Fiction International, Other Voices, Opium, Exquisite Corpse, Diagram, Gargoyle, and many others
"He Do the Poultice in Different Voices." Notre Dame Review. 42. Summer/Fall 2016.
"13 Things that Wikipedia Tells Us…" Litscapes: Collected US Writings 2015, edited by Caitlin M. Alvarez and Kass Fleisher. 2016
 "Modern Business Machines." As The Muttering Sickness. Collaboration with Regina Taylor for Goodman Theater's 2015 production of Stop, Reset. June 2015
"The Story I am Speaking to You Now." xo Orpheus: Fifty New Myths. Ed. Kate Bernheimer. Penguin, 2013 
Selected Essay/Non-Fiction/Journalism (50+) 
The Huffington Post (40+) 2011-present, including interviews with Temple Grandin, David Shields, Sherry Turkle, Regina Taylor, Aleksander Hemon, Ben Wizner, etc.
"The Grateful Dead." Ravinia Festival Magazine. June 2016
"Pull Any String Of The Spider Web And The Whole Thing Vibrates: AnArgument/Conversation." (With David Shields). The Writer's Chronicle. December 2014
"Proust on Twitter." Proust and Me blog. FrenchCulture.org. November 12, 2013
Selected Grants 
Digital Chicago, The Andrew W. Mellon Foundation (2014-18), $800,000
Digital Collaboration planning grant, The Andrew W. Mellon Foundation (2014-16), $100,000
Google Earth Pro grant, Google (2009), $8000
Digital Humanities Start-Up award, National Endowment for the Humanities (2008-9), 25,000
Illinois Arts Council award (2004-5, 2005-7, 2007-7), $9740
Six-college collaboration, Midwest Instructional Technology Center (2004-2007), $60,000
Kemper Foundation (2001-2), $15000
Selected Awards and Honors
Charlotte Simmons Prize, awarded to service to the external community, Lake Forest College, 2017
Academic Leadership Academy, Center for the Study of Higher Education, Pennsylvania State University, 2016-17
The Bird Award for Intellectual Contributions to the Campus Community, Lake Forest College, 2011
Visiting Scholar, University of London-Institute of Paris, March 9-11, 2010
Visiting Artist, University of Central Arkansas, March 2009
William L. Dunn Award for Outstanding Teaching and Scholarly Promise, Lake Forest College, 2006