<div style="background-image:url(/live/image/gid/57/width/1600/height/300/crop/1/28075_imgp8377.rev.1443714354.jpg)"/>
<div style="background-image:url(/live/image/gid/57/width/1600/height/300/crop/1/29917_mll.rev.1450299631.png)"/>
<div style="background-image:url(/live/image/gid/57/width/1600/height/300/crop/1/29918_mll2.rev.1450299632.png)"/>
Modern Languages and Literatures
Barbara J. Harvey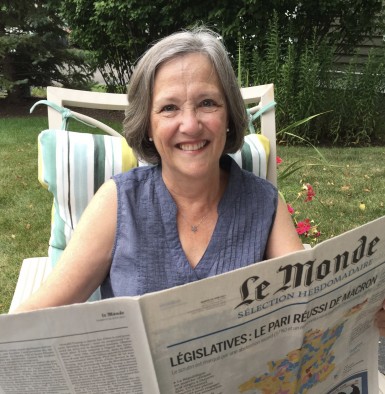 Lecturer in French and Education
Courses Taught
FREN325 Introduction to Reading Literature in French
FREN255 Conversation and Composition
EDUC422/522 Discipline-specific: K-12 Spanish
Experience
Lake Forest College, Lake Forest, IL
Adjunct Faculty
French 110
French 311
Supervising Student Teachers in Elementary and Secondary Spanish placements
ED 411: Standards-based Spanish Instruction at the Elementary Level
ED 420: Discipline Specific Secondary Instructional Design for French and Spanish, Grades K-12
Highland Park High School, Highland Park, IL
Chairperson for World Languages Department
Mentored and evaluated 16 teachers of Chinese, French, Hebrew, Italian, Spanish, Spanish for Native Speakers, and two teacher aides in separate language labs.
Developed curricula for department course offerings.
Coordinated staff development.
Lead articulation of HPHS World Language program with feeder middle schools.
Participated in building leadership council decision-making, school improvement measures, and school management.
Recruited and hired teachers and teacher aides.
Consulted on and edited a Chinese I textbook written by department Chinese teacher.
Taught AP French Language, and one other course (French II, French III or French III honors).
Classroom teacher of French V, IV honors, IV, I
ADDITIONAL CLASSROOM EXPERIENCE
Bradley University, Peoria, IL
Adjunct Faculty
Wheaton Warrenville HS, Wheaton, IL
French I and Spanish II
Morton HS, Morton, IL
French IV, I and Spanish II, I
Park Junior HS, LaGrange, IL
Spanish and ESL
Heller Keller Junior HS, Schaumburg, IL
French and Spanish
EDUCATION
National Louis University, Wheeling, IL
Masters in Educational Leadership
Illinois State University, Normal, IL
Earned coursework credits towards Master of Arts/Foreign Languages
Dominican University, River Forest, IL
BA in French/Minor in Spanish. Graduated Cum Laude. Studied in Fribourg, Switzerland.
RELATED SKILLS AND ACTIVITIES
Teacher Leader/Participant at TALL-IL 1.0 "Training for Assessment and Language Learning in Illinois" 2013.
AP French Language Exam Reader for College Board 2009.
Completed Rutgers University Teachers at the Louvre program MA course "Bringing the Louvre into the French Classroom" 2008.
Member of NNELL, ICTFL, AATF.
Certification: Illinois Type 09 and Type 75.
Led student tours to France, Spain, and China. Extensive personal travel.
Lived in Montreal, PQ., and Kelowna, BC., Canada.