<div style="background-image:url(/live/image/gid/6/width/1600/height/300/crop/1/30485_library.rev.1454952369.png)"/>
<div style="background-image:url(/live/image/gid/6/width/1600/height/300/crop/1/30024_area_studies.rev.1451945934.png)"/>
<div style="background-image:url(/live/image/gid/6/width/1600/height/300/crop/1/30025_education.rev.1451945980.png)"/>
<div style="background-image:url(/live/image/gid/6/width/1600/height/300/crop/1/30028_english-_literature.rev.1452013046.png)"/>
<div style="background-image:url(/live/image/gid/6/width/1600/height/300/crop/1/29871_papers.rev.1452013163.png)"/>
<div style="background-image:url(/live/image/gid/6/width/1600/height/300/crop/1/30027_self_designed_major.rev.1451946126.png)"/>
Nu Rho Psi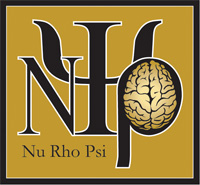 Lake Forest College became the 26th member of Nu Rho Psi, the National Honor Society in Neuroscience, founded in 2006 by the Faculty for Undergraduate Neuroscience  in spring 2012. Nine neuroscience majors and two faculty were inducted as charter members. After a successful first year, an additional four neuroscience majors, one faculty member and three recent alumni were inducted in spring 2013. 
In 2014, our chapter was honored as the National Chapter of-the-Year at the annual Society for Neuroscience meeting in San Diego (CA).
The purpose of Nu Rho Psi is to:
encourage professional interest and excellence in scholarship, particularly in neuroscience;
award recognition to students who have achieved such excellence in scholarship;
advance the discipline of neuroscience; encourage intellectual and social interaction between students, faculty, and professionals in neuroscience and related fields;
promote career development in neuroscience and related fields;
increase public awareness of neuroscience and its benefits for the individual and society; and encourage service to the community.

 
Congratulations to the new Nu Rho Psi inductees! On April 28th, new members of Nu Rho Psi were inducted into our chapter!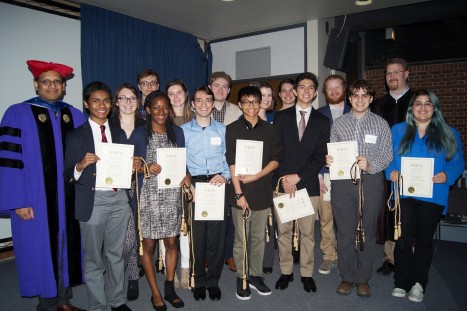 2012 Nu Rho Psi induction
Upcoming Events
Please take the time to take our survey.
On March 1st, Nu Rho Psi will be hosting an event titled,  "End the Silence, Break the Stigma." This event is intended to highlight the struggle those with mental illness face. For part of this day, we are creating a video to help spread the stories of Lake Forest College Students and other students. For this we are asking you to fill out our survey. This survey is completely anonymous and your responses will not be linked to you in any way.
Thank you! Link is here
February 10th
Nu Rho Psi presents the annual Chicago Brain Bee!
February 13th
4:15pm in Meyer Auditorium
 Dr. Sangram Sisodia (U of C) presents, Alzheimer's disease: Insights from basic and clinical science and translation to therapies.
February 21st – Neurodecleration day!
5:45pm in Lillard 044
Mandatory for current and future NEUR majors/minors
February 26th
4:15pm in Meyer Auditorium
Dr. David Uttal (NU) presents, When and why does spatial thinking matter in learning?
March 1st
Our first annual Mental Health Awareness Day!!
This is a three part event: Movie, Relaxation and Meditation, and a Seminar Series with help from NAMI: National Alliance on Mental Illness.
March 20th
4:15pm in Meyer Auditorium
Dr. Paul Vezina (U of C) presents, Understanding the neurobiology of excessive desire
April 28th- Neurofrontiers!
4:15pm in McCormick Auditorium
Dr. Joannna Dabrowska (RFUMS) presents, The link between stress and anxiety, depression and addiction
MANDATORY- Inauguration is April 28th