Speakers on Campus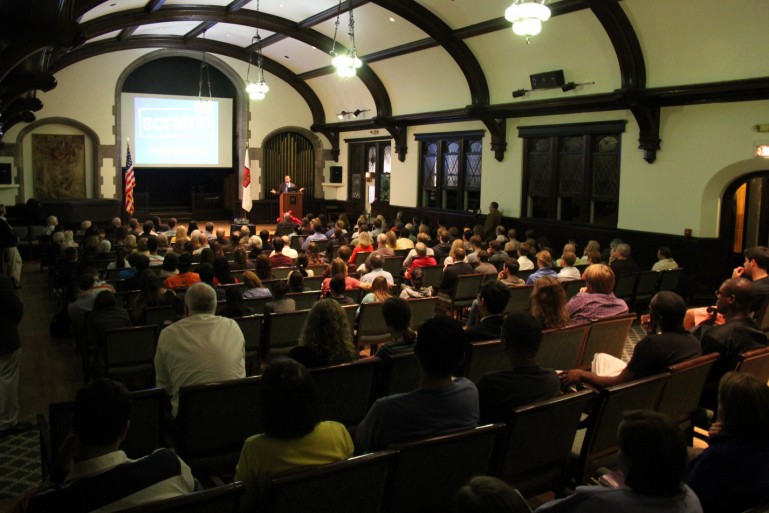 Named one of Fortune Magazine's 40 Under 40, Ross Martin gave a talk titled "Blame the Millennials: How a New Species is Changing Everything for Good" in 2013.
Our proximity to Chicago and network of friends brings awesome speakers to campus year after year. Inspiring lectures, art gallery openings, and musical performances attract amazing talents to the College. 
Read about our recent speakers
Reginald Dwayne Betts, the 2015 artist in residence, visited classes and read from his latest book of poetry during his week on campus.

Director of 

Motion Design for Digital Kitchen

 Chad Ashley will talk to students about his career in the design field from 4–5 p.m. Thursday, November 12, in Room 209 of the Durand Art Institute.

The Chicago Tribune covered the on-campus talk by American Civil Liberties Union attorney Ben Wizner, who believes privacy is a "basic human need."

Don't miss 2015 artist-in-residence, Reginald Dwayne Betts, who will be on campus next week, November 9–13. 

Miles Kimball, a well-known economics research expert, shared his thoughts on electronic money, inflation, and recessions during an on-campus lecture on September 1.

Eminent research economist Miles Kimball will speak about how electronic money can help end recessions and inflation from 7–9 p.m. on Tuesday, Sept. 1.

The Career Advancement Center's "Pathways to Successful Careers in Health Care" event provided students with the chance to meet with industry professionals to explore their career options. 

Expert social psychologist Sherry Turkle will deliver the annual Oppenheimer Lecture to start off Homecoming Weekend at Lake Forest College in October 2015.

The Vermont Law School professor and retired Dean of Forestry at Yale University discussed the need for a new global environmentalism in his talk on

March 17, 2015

.

An insect expert from The Field Museum of Natural History in Chicago came to campus to talk about evolutionary diversification of ants.

Fifty years after graduating from Lake Forest, insurance expert Tony Todd '63 still gives back by bringing business professionals to campus for Saturday discussions with students.

Lake Forest graduate Courtney Wright '88 shared the story of her road to entrepreneurial success during a recent campus talk.

President of the Chicago Council on Global Affairs and former U.S. Permanent Representative to the North Atlantic Treaty Organization, Ivo Daalder, will speak on campus on

March 5

.

The poetry book, 

Titanic,

published by

Lake Forest College Press

is among the 10 best books printed by academic publishers in 2014, according to Flavorwire.com.

Barbara Newman, an expert on medieval religious culture, discussed how today's heart transplant patients live the literary "exchange of hearts" motif.

Lake Forest College's collaboration with the Chicago Humanities Festival to celebrate William S. Burroughs made a splash on campus and in the city.

George Koppelman, a rare-book dealer who believes he purchased William Shakespeare's personal dictionary on eBay, met with students during a campus visit.

A group of Tibetan monks will be on campus for four days to create a Tibetan Buddhist Sand Mandala starting on Sept. 30 through Oct. 4 in the Center for Chicago Programs.

Popular theoretical physicist, Michio Kaku, will deliver the annual Oppenheimer lecture to start off Homecoming Weekend on September 18. Online registration has reached capacity. Please

register online

for the wait list and you'll be notified if seating becomes available.

The American Marketing Association sponsored speaker 

Jacqueline Camacho-Ruiz of JRR Marketing Consultants on Feb. 18 as part of the organization's Career Prep Speakers Series. 

Lake Forest College was host to big-name television journalist, producer, narrator, and news anchor Bill Kurtis on November 14 for his talk, "The Best Seat in the House," which included anecdotes about his career, commentary on the evolution of journalism, and the importance of journalism in American society. After the talk, students lined up for a chance to get a photo with Kurtis and chat with him one-on-one.

Les Dlabay, Professor of Business, presented "Alternative Financial Services in Emerging Markets: A Banking Bridge for the Middle Class" at the Middle Class Phenomenon in Emerging Markets 2013 International Conference hosted by Georgia State University.

Lake Forest College is pleased to welcome Al Gordon, Chairman and CEO of Richland, Gordon & Company and the Co-CEO of ALDA Capital, to campus on

October 24 at 7:30 p.m.

, to talk about his experience as a private equity investor and serial entrepreneur.

Writer John Wasik will discuss how John Maynard Keynes became one of the greatest stock investors of all time, and how you can replicate his success. Wasik, the author of over a dozen books including "

Keynes's Way to Wealth: Timeless Investment Lessons from The Great Economist

," will also discuss the publishing industry and how books are published. Listen to his lecture on

Thursday, November 21 at 4:00 p.m.

in Meyer Auditorium. 

A group of students majoring in finance and economics had a special opportunity this week when former U.S. Treasury Secretary Henry Paulson came to campus for an informal talk with them.