<div style="background-image:url(/live/image/gid/84/width/1600/height/300/crop/1/5986_screen_shot_2016-11-30_at_3.27.37_pm.rev.1480543045.png)"/>
<div style="background-image:url(/live/image/gid/84/width/1600/height/300/crop/1/45667_Academics.rev.1531425285.png)"/>
<div style="background-image:url(/live/image/gid/84/width/1600/height/300/crop/1/45642_FIYS_Field_Trip.rev.1531246209.jpg)"/>
Sadaf Naushad '21
Naushad got to practice her Spanish reading, writing, and speaking skills this summer as she explored Latin American crime fiction. She worked alongside her faculty mentor to compare these short stories to real world events that occur in Latin America. This valuable experience contributes to Naushad's interests and areas of study, adding something unique to her resume so early in her college career.
Q. How do you think this experience will impact your future?
A. I think that this experience will impact my future positively. I am majoring in international relations and Spanish with a minor in legal studies. With that said, being aware of what goes on in the real world is very important to my development as a scholar, especially in countries that I am particularly interested in researching. 
Q. What's it like working one-on-one with a professor?
A. I like how I get to openly share my ideas rather than waiting to be called on in a class setting where all eyes are on me. Working one-on-one helps build a relationship with my professor, and I feel a lot more comfortable in that setting.
Q. What was your favorite part of the Richter Scholar Program?
A. I really enjoyed getting to build my own agenda. This whole project was based off my time and what I wanted to do. It gave me a chance to be creative and educate myself. Dr. Meneses gave me some guidelines to follow, but what I loved most about the Richter Program is that each project is truly your own. 
Q. What did you learn about yourself as a Richter Scholar?
A. I learned that I can really push myself and think outside the box when it comes to working alone. The process has not been easy, but it's about taking it step by step, which is what I have been doing. I think I will be really impressed with myself at the end of this project.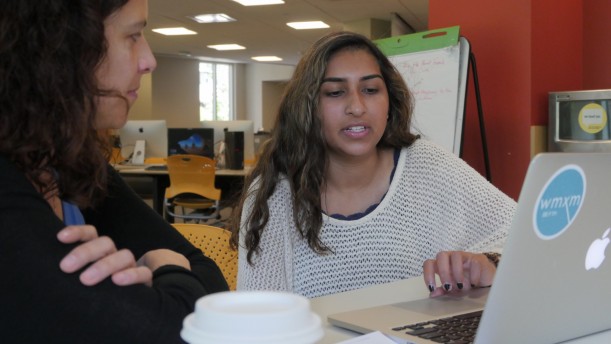 Associate Professor of Spanish Gizella Meneses working with Sadaf Naushad '21
—By Sangjun Hornewer '20