<div style="background-image:url(/live/image/gid/84/width/1600/height/300/crop/1/45642_FIYS_Field_Trip.rev.1531246209.jpg)"/>
<div style="background-image:url(/live/image/gid/84/width/1600/height/300/crop/1/45667_Academics.rev.1531425285.png)"/>
<div style="background-image:url(/live/image/gid/84/width/1600/height/300/crop/1/5986_screen_shot_2016-11-30_at_3.27.37_pm.rev.1480543045.png)"/>
Amanda Lee '21, Jan Roessler '21 and Molly Gniady '21
Lee, Roessler, and Gniady worked with Professor of Economics and Business Robert Lemke to conduct independent research. While each had their own question to investigate, they worked together to learn about Strata—a statistical software program—and become proficient in writing code.
Q. Within your group, what kind of research did you focus on independently?
Lee: There are many pros and cons to purchasing term versus whole life insurance. My research question investigates how life insurance decisions—what type and how much is purchased—relate to household education levels and household size. To estimate these relationships empirically, I am using the Survey of Consumer Finances (SCF), a dataset of household financial information collected by the Federal Reserve every three years. In order to download, manage, and analyze the data from the last six waves of the SCF (2001-2016), I am learning how to use Stata.
Roessler: All three of us are using Strata to conduct regression analyses using data from the Survey of Consumer Finances, which has been compiled triennially by the FED since 1983. As for my individual research, I am investigating the relationship between student loans taken out to pay for college or graduate school and net worth later in life.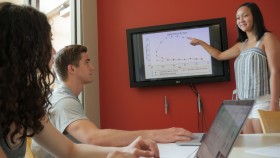 This is an interesting question because the meaning of the relationship is not obvious; for instance, it could be that taking on more debt lowers one's net worth as one must repay the debt plus interest during work life. On the other hand, taking out school loans may be the vehicle by which individuals eventually land higher paying jobs, which allows for easier repayment of the loan and more rapid accumulation of net worth.
Gniady: I am analyzing data from the Federal Reserve's Survey of Consumer Finances (SCF) using regression analysis. In order to access the data, I first learned how to program in Strata. With my general understanding of Strata, I am now using the SCF data to specifically look at how household expectations regarding the U.S. economy translate into specific investment decisions. Because the SCFs provide an in-depth look at household finances, many different behaviors can be studied. Personally, I am most interested in seeing if economic expectations for the next five years have a direct effect on a household's diversification of financial assets.
Q. How do you think this experience will impact your future?
Lee: Given this unique opportunity to execute hands-on research closely with a professor, I am learning more about how to collaborate with others and how to write computer code. Moreover, I will be able to use my research for future classes and potentially continue this research, in greater depth.
Roessler: From this unique research experience, I am gaining valuable insight into the field of data analytics within financial economics. I am confident that enhancing my computer science skills by learning how to code in Stata and developing my analytical skills by learning regression techniques will provide me with an array of opportunities to explore career options in a variety of fields.
Gniady: Learning to analyze data and look for research questions from that data has taught me how to think more like a researcher.
Q. What's it like working together with a professor?
Lee: Working three-on-one with a professor, I have been able to learn detailed concepts while receiving more personalized help. It is much easier to build a strong relationship with a professor when you have a small group working together to accomplish the same goals.
Roessler: Directly working with a professor is a lot of fun. Not only did I get to know my professor better personally, but it also helped me improve as a scholar by getting immediate feedback and being challenged to participate in an open exchanges of ideas.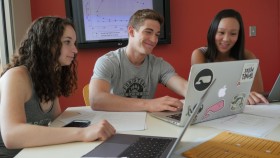 Gniady: I enjoy the structure of meeting with Professor Lemke to go over goals for the day and then devoting my time to working on achieving those daily goals. I especially enjoyed working in a group with two other students during this period, as we worked well together and were very efficient with our time. Most days, we reserved a room in the library so we could all work on our own tasks while also being able to ask others in the group questions about the dataset or our Stata programs.
Q. What was your favorite part of the Richter Scholar program?
Lee: Through the Richter Scholar program, I have been able to meet other students in my class—in both my research group and among the other Richter Scholar—that I would not have met outside the program. The program has been a great way for me to develop relationships with other classmates as academically focused as I am, while having the opportunity to discover new ideas I had not yet explored.
Roessler: There are many things to like about the Richter Scholar Program. Academically, it is a great opportunity to learn at a higher and faster-paced level than what is often found in a regular college setting. Personally, it is great to meet new people and make new friends that I possibly would not have met during the school year. I plan to stay in touch with many of the students that I was fortunate to meet during the course of this program.
Gniady: My favorite part of the Richter Scholar Program was that I was able to step out of my comfort zone and get to know other students in the program. I have made some great friends from Richter, and I am grateful for that.
Q. What did you learn about yourself during the Richter Program?
Lee: I learned that there are times when I must struggle before I can make progress. There were many difficult concepts and tasks that seemed overwhelming at the start, but I have learned that solutions present themselves when you take a step back, think things through, and ask for help when it's needed.
Roessler: As an international student athlete, I have to stay focused on my grades and my sport first. This limits my ability to meet other students at the College who share similar academic interests, but are not in my classes or are not my teammates. I gained a lot from this program both academically and socially. Working in a group with two other students, I was able to improve my teamwork and leadership skills. I also learned more about my academic interests.
Gniady: I learned that I am able to think like a researcher and that I really enjoy using data and asking serious questions. I found that I am able to think about what would be a great research question and what variables are needed to arrive at an answer.
—By Sangjun Hornewer '20