<div style="background-image:url(/live/image/gid/95/width/1600/height/300/crop/1/42360_HOMECOMING_darker.rev.1523377981.jpg)"/>
Communications and Marketing
Students get hands-on experience with Axiom Consulting
Fifteen students on the Business and Finance Pathway got an in-depth look at consulting as a career during a hands-on visit to Axiom Consulting Partners in downtown Chicago.
The Foresters learned about the consulting industry, careers, required skills, and even got to work on a client case study in small groups with Axiom consultants, including alumni Shawn Nelson '18, Alex Rhodes '18, Devin Tyler '17, and Trustee Steve Strelsin, a founding partner of Axiom.
"I had a great experience at Axiom Consulting," Charlotte Jackson '19 said. "I was able to work through a real case that consulting firms like Axiom face all the time and gain that hands-on experience. This visit solidified that consulting is the career path I want to be on."
Beth Clemmensen, lecturer in economics and business, arranged the visit, and she and Marie Josephitis, leader of the Career Advancement Center Business and Finance Pathway, accompanied the group.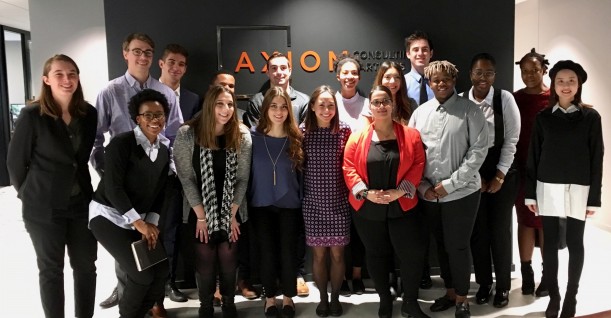 The students who went to Axiom were:
Elze Demiri '19
Nombuso Dlamini '20
Dakota Ducar '19
Charlotte Jackson '19
Zoe Johnson '20
Keilyn Mancilla '19
Julianne Mauriello '19
Kotch Mmopi '20
Amanda Penn-Francis '19
Jan Roessler '21
Reed Scahill '20
Goitseone Thebe '19
Nelma Trinidad '19
Kaylene Williamson '19
Yin Yu '19