More than 100 people came to Ross Theater at Naval Station Great Lakes in North Chicago Friday morning to commemorate the 77th anniversary of the Japanese attack on Pearl Harbor.
The ceremony was the first to take place since Lake County's last Pearl Harbor survivor, Joseph John Triolo, died on Jan. 11.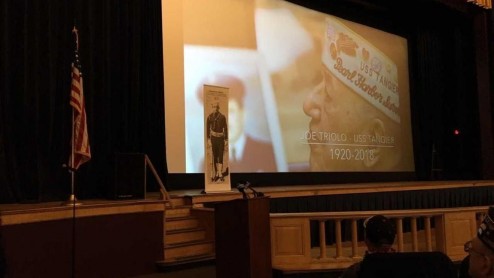 The last of Lake County's Pearl Harbor survivors, Joseph John Triolo, died Jan. 11, 2018, and his picture was displayed during a Naval Station Great Lakes commemoration on Friday, along with images of other survivors. (Frank Abderholden/Chicago Tribune | News-Sun)


Friday's tribute was organized by brothers Eric "Rick" Miller and Bob Miller of the Sons & Daughters of Pearl Harbor Survivors, the Pearl Harbor Survivors Association Illinois Chapter 1 and Mike Lake, Commander of VFW Post 2992 of Des Plaines.
The Millers brought their extensive collection of memorabilia for people to view after the ceremony, which ended with master of ceremonies Bob Miller commenting on the importance of honoring the sacrifices of veterans.
"Next time you see a flag or hear the anthem," he said, "remember it's the veteran who has sacrificed to give us the freedoms that we enjoy, and it's the veteran who serves the flag and salutes the flag and whose coffin is draped by the flag."
Eric "Rick" Miller collected many of the items in the family's collection, and he said it's "just the right thing to do" to bring it out for people to see.
Their late father, Clarence "C.J." Miller, was aboard the USS Ramsay when the attack occurred, and both sons have spent the last 17 years honoring their father, local survivors, survivors that have passed away and all those who lost their lives on Dec. 7, 1941.
"They made it through a horrific event," Eric "Rick" Miller said of the survivors, but his family is hoping to pass on the history to sailors and civilians alike.
"This is a part of your history here. It's an opportunity to see it up close with a personal side. Now it's up to us to keep it alive," he said.
Capt. Ray Leung, commanding officer at Great Lakes, spoke about the air raid on Pearl Harbor and how it was the single biggest attack on the U.S. Navy, with nearly 2,000 personnel killed and another 700 wounded. He said that is why recruits spend their first night in a barrack named Pearl Harbor.
"It all happened very quickly. (There) was a loss of life on every ship," he said. "It lasted less than two hours, and there was extensive damage.
"This marked a turning point in world history, and it affected whole families."
By the end of the war, Naval Station Great Lakes had trained some 7 million sailors.
"At the time there were 6,000 sailors at Great Lakes. In six months, there were 60,000," Leung said, and that number would grow to 100,000 at the base in 17 separate camps.
Today, he added, Great Lakes personnel have raised their standards and work hard at their training.
"We do the little things perfectly at Great Lakes so we can get the big things right when all goes wrong," he said.
Dakata Toney, 20, of Detroit said the tribute to the survivors "was amazing." And yes, her first night was in the Pearl Harbor barracks.
"It took mad courage," she said of the sailors at Pearl Harbor, adding that "it's amazing to see the family here" as she worked her way through the long tables of memorabilia the Millers had brought.
"I know they are proud, and I'm proud of them," she said, saying the event was good "to know where we came from."
Triolo, a former Waukegan resident who most recently lived in Zion before his death, was a native of West Virginia. He described the day to Lake County State's Attorney Michael Nerheim during a Living History interview at the Lake County Courthouse in 2013.
"It was a duck shoot," said Triolo, a boatswain's mate on the USS Tangiers who had been in his bunk when the alarm sounded.
"But when I got topside, I saw a Japanese plane coming up the channel," Triolo added. "They were like bees. I could see the pilot as good as I can see you. I could see the expressions on his face.
"They fired anywhere they wanted. The whole fleet was in ruins."
His full interview transcript can be found at the Library of Congress Veteran's History Project (www.loc.gov/vets) and clicking on "search the veterans collections."
Tricia Runzel, a curator for the National Museum of the American Sailor, shows a collection of belongings from Joseph John Triolo, the last Lake County Pearl Harbor survivor, who died this year on Jan. 11. (Frank Abderholden/News-Sun)
Triolo was in the Navy during the Korean War as well, and he left after serving for 21 years, retiring as a chief boatswain's mate, according to his obituary. He met his wife Katherine at what was then known as the Great Lakes Naval Station.
When he left the Navy, he enrolled in Lake Forest College at the age of 38 and received a bachelor's degree and furthered his studies at Roosevelt University. Upon graduation, he was hired into the North Chicago School District, where he taught and was a counselor for 21 years.
Twitter @abderholden