<div style="background-image:url(/live/image/gid/95/width/1600/height/300/crop/1/42360_HOMECOMING_darker.rev.1523377981.jpg)"/>
Communications and Marketing
Richters you should know: Rowland and Stauber
Yes, social networks did exist before Facebook, Twitter, Instagram, and Snapchat. Maxwell Rowland '21 and Sarah Stauber '21 figured this out as they scoured through newspapers and directories from 1860 to 1940 to analyze the social network of Chicago's changing elite as Richter Scholars.
As Assistant Professor of History Rudi Batzell helped them find evidence of individuals who had ties to multiple organizations—meaning they had a larger sphere of influence—Rowland and Stauber were able to create visualizations illustrating inequality in Chicago between 1860 and 1940.
Rowland and Stauber are Richter Scholars you should know:
Q. How do you think this experience will impact your future?
Rowland: Having practical research experience under my belt this early in my college career gives me an advantage. I'm grateful for the opportunity to learn what real research might look like and how the research can be translated into data that can be shared in the academic community. Being part of this project gives me valuable skills I can use to move ahead as a professional in whatever field I choose to pursue.
Stauber: In conducting this research, I have learned not only about historical events and perspectives as perceived during this time, but also how to find resources for conducting historical research in the future. I believe that participating in this research project will open doors for me because of the skills I am learning and the innovative product that I am contributing to.
Q. What's it like working together with a professor?
Rowland: With this research, I dove right into the practical application of all the techniques that school has been teaching me over the years. It really is a transition from the classroom setting. In Richter, we stop talking about theories and start applying them. I'm very grateful to Professor Batzell to have me on his project. It's been a lot of fun.

Stauber: Working with Maxwell and Professor Batzell is much more communicative than any class setting I've ever been in. I am able to not only ask Professor Batzell questions as they come up in my research, but also learn and exchange notes with Max as we go. It's also very helpful to sit down a couple times per week, give progress reports, and discuss the events and ideas of the times.
Q. What was your favorite part of the Richter Scholar Program?
Rowland: Seeing the fruits of my research culminate into a final presentation is beyond satisfying. For example, Sarah and I put the data we collected into a program that created a visual network design. Seeing a list of names and numbers turn seamlessly into a massive web of connections is instantly gratifying. I can't wait to present the story of our research to others.
Stauber: My favorite parts of my Richter experience are being able to work with a small group of people and seeing the end results of our hard work.
Q. What did you learn about yourself during the Richter program?
Rowland: It's easy to crack down and achieve anything if you have an end goal in mind. This research definitely showed me that. We had a daunting task to overcome: reading the daily newspaper from multiple years. Knowing what we would do with that helped us get through it faster. With that aim, we had an easier time deciding how to conquer tasks and achieve our end goal. Targeting what you want to achieve—and taking the steps needed to achieve it—becomes much faster.
Stauber: One of the most important things I learned about myself is that in order to be my most productive, I often need to be in a situation with minimal distractions. Above all, however, this experience showed me how much I enjoy the research process.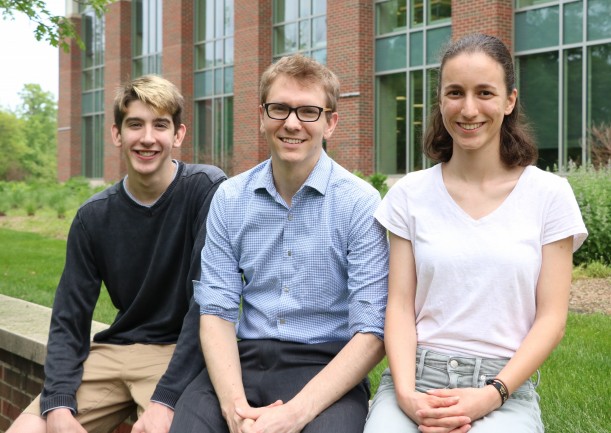 Maxwell Rowland '21, Assistant Professor of History Rudi Batzell and Sarah Stauber '21
—By Sangjun Hornewer '20