<div style="background-image:url(/live/image/gid/95/width/1600/height/300/crop/1/42360_HOMECOMING_darker.rev.1523377981.jpg)"/>
Communications and Marketing
Students present memory research at professional conference
Just a few months after conducting memory research as Richter scholars, Madison Strejc '21 and Zoe Walts '21 presented their findings at the Psychonomic Society's 59th Annual Meeting, an international gathering of more than 2,500 cognitive psychologists.
At their first professional conference, Strejc and Walts presented the poster, "The effects of part-set cuing in semantic memory," which they worked on in Professor of Psychology Matthew Kelley's memory lab.
The two first began working with Kelley as Richter Scholars during the four-week option last summer, when they created and conducted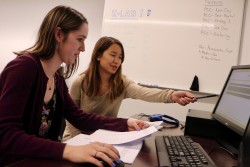 cognitive research trials and learned how to interpret the data they collected. Kelley invited the duo to continue that work this fall, conducting further experiments and collecting data on the larger study he is conducting.
Having the opportunity to present at a professional conference is not something either student expected to do as undergraduates, but they're both grateful for the experience.
"My friends at other schools aren't doing this kind of research and definitely are not presenting at a professional conference," said Walts, a neuroscience major and French minor from Naperville, Illinois. "This opportunity was unusual and special. Just the exposure was a big benefit. We were able to interact with professionals, make connections, and learn what's out there—what other research is going on."
For Strejc, who hopes to go to medical school, the research and presentation experience she is receiving at Lake Forest College is key to her future goal.
"If you're trying to go to medical school or graduate school, you're more likely to get in if you have a background in research," said Strejc, a neuroscience major and chemistry minor from Erie, Colorado. "Having that experience throughout your college career looks really good on a resume. Going to a conference of this caliber was a great experience—just getting a chance to see the professional setting was important."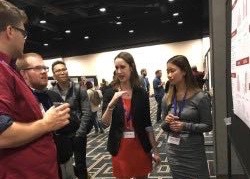 The Psychonomic Society's 59th Annual Meeting was held November 15-18, 2018 in New Orleans. The attendees were researchers who perform and promote the basic science of behavior in areas such as memory, learning, problem solving, action planning, language, and perception that connect with other fields of research.