<div style="background-image:url(/live/image/gid/95/width/1600/height/300/crop/1/42360_HOMECOMING_darker.rev.1523377981.jpg)"/>
Communications and Marketing
Pulitzer Prize winner to present Ruth Winter Lecture in October
Lake Forest College presents the 2018 Ruth Winter Lecture with historian Heather Ann Thompson, author of the Pulitzer Prize winning book, Blood in the Water: The Attica Prison Uprising of 1971 and its Legacy at 7 p.m. on October 10.
A historian at the University of Michigan, Thompson received a number of awards and far-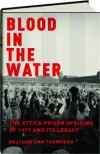 reaching media coverage for Blood in the Water, which uncovered the history of the 1971 Attica prison uprising and the cover-up of the atrocities that happened when the state took the prison back.
"The power of this superb work of history comes from its methodical mastery of interviews, transcripts, police reports and other documents covering 35 years," The New York Times Book Review said in a 2016 article when the book was first published. 
Blood in the Water ultimately landed on 14 "Best of 2016" lists, including The New York Times Most Notable Books of 2016 list. 
Thomposon writes extensively on the history of policing, mass incarceration and the current criminal justice system for The New York Times, Newsweek, Time, The Washington Post, Rolling Stone, Jacobin, The Atlantic, NBC, The Huffington Post and others, as well as for the top publications in her field. 
The Ruth Winter Lecture series is named in honor of the late Ruth Winter, who was a dynamic director of student activities at Lake Forest College for many years. During her tenure, Winter was instrumental in bringing many prominent speakers to the College, including Dr. Martin Luther King, Jr., Katherine Hepburn, and Dag Hammarskjold. In the spirit of Ruth Winter, this annual lecture features a speaker who is politically, socially and culturally engaged in his or her community. The lecture is free and open to the public. Parking is available on Middle Campus.