<div style="background-image:url(/live/image/gid/95/width/1600/height/300/crop/1/42360_HOMECOMING_darker.rev.1523377981.jpg)"/>
Communications and Marketing
Harvard implicit bias expert delivers Volwiler Lecture
Opening keynote speaker for Brain Awareness Week
Esteemed psychologist and Harvard University professor Mahzarin Banaji spoke on the neuropsychology of implicit bias on November 12.
As the 2018–19 Ernest H. Volwiler Lecturer in Science and Mathematics, Banaji will kick off the 15th annual Brain Awareness Week with her fascinating and thought-provoking talk on how well-intentioned people behave in ways that deviate from their own conscious intentions. She will use demonstrations of how the eye sees and how the mind interprets, as well as hands-on exercises to demonstrate ordinary prejudices, including her own.
Born in Secunderabad, India, Banaji received her master's in psychology from Osmania University before completing her postdoctoral fellow at University of Washington. Previously Director of Undergraduate Studies at Yale University, she is presently the Department Chair of Psychology at Harvard. Her research addresses a range of social-cognitive influences, including unconscious bias and collective action.
Banaji's success as a social scientist has been acknowledged by the American Psychological Association in 2017 for having made Distinguished Scientific Contributions to Psychology. She also received fellowships from Guggenheim Foundation, the Rockefeller Foundation, and the Radcliffe Institute for Advanced Study. 
In the present socio-political climate, Banaji's exploration into the unconscious, implicit sentiments toward identity in regard to racial, ethnic, class, gender, and age categories sparks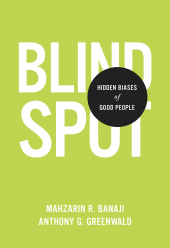 important conversations. She co-wrote Blindspot: Hidden Biases in Good People related to such prejudice. In early 2018, Banaji gave a TEDx Talk related to culturally reinforced biases, which can be viewed here. 
Supported by the Ernest H. Volwiler Fund, the 27th Volwiler Lecture provides the Lake Forest College community with an opportunity to hear from a variety of noteworthy pioneers and advocates of the sciences.
This free lecture will be held in Reid Chapel on the Lake Forest College Middle Campus, 555 N. Sheridan Road, Lake Forest.