<div style="background-image:url(/live/image/gid/95/width/1600/height/300/crop/1/42360_HOMECOMING_darker.rev.1523377981.jpg)"/>
Communications and Marketing
Students win neuroscience awards
At the 2018 Chicago Society for Neuroscience Meeting, neuroscience majors Sarah Applebey '18 and Rosemary Thomas '18 won Second and Third Prizes, respectively, in the poster competition.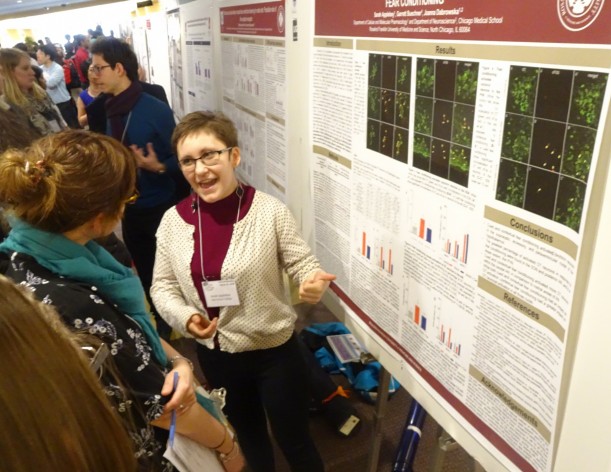 Second Prize Winner Sarah Applebey '18 presents her researchApplebey's work was conducted at Rosalind Franklin University of Medicine and Science. "My research identified specific populations of oxytocin neurons in the hypothalamus that may be active in learning to associate a stressful experience with an environment or a specific stimulus, like a light or noise," explains Applebey. Her research may one day allow researchers to prevent such traumatic associations.
When asked what led to her success as a presenter, Applebey said that "because the neuroscience program at Lake Forest trains students to present primary research, I have been given the skills to communicate research in an understandable manner. My goal was simply to enjoy sharing exciting new research and hopefully pass that excitement to others."
Third Prize Winner Rosemary Thomas '18 presents her research
Third Prize Winner Thomas' senior thesis work was conducted in Disque D. and Carol Gram Deane Professor of Biological Sciences Shubhik DebBurman's lab.
"My research not only gives information on the development of Parkinson's disease, but it also gives insight into the cause of many other neurological diseases in which protein is misfolding and accumulating," explains Thomas. "In addition, my research also opens up the many possible pathways for treatments and therapies."
Thomas is grateful that she and her peers were able to attend the meeting: "As undergraduates, we know a lot about the brain, but we don't always know what research was performed to get that information. Attending meetings allows an undergraduate to understand the work put into each discovery."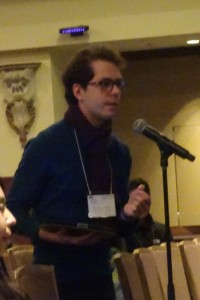 Neuroscience major Michael Janecek '18 asks questions of the meeting's keynote speaker, University of Chicago Professor Peggy MasonSeveral other neuroscience seniors, including Michael Janecek '18, Krista Meuli '18, and Aasimah Tanveer '18, presented their thesis research alongside recent alumni Brittany Avonts '17, Sierra Smith '17, and Saul Bello Rojas '16, who presented research they are conducting at Chicago-area medical schools.
"I felt deeply satisfied see multiple Lake Forest College students confidently take the microphone to ask provocative scientific questions on a wide array of topics and engage animatedly with several conference podium speakers and many poster presenters throughout the day," said DebBurman. "Because our curriculum is designed to develop skills in critical thinking and effective professional communication, the fruits of our daily efforts truly came alive."
Over 70 Lake Forest College science majors attended the meeting, and several faculty members attended as well, including DebBurman, Lecturer in Neuroscience Tristan Hedrick, Professor of Psychology Matthew Kelley, Assistant Professor of Psychology Jean-Marie Maddux, and Associate Professor of Psychology Naomi Wentworth.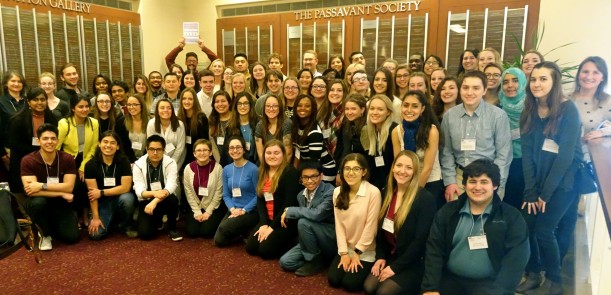 "I really got the sense of why research is so exciting," said Bari Mohammed '21 about attending the meeting. "When all the hard work is presented and it lights up other people's eyes, that alone is justification as to why researchers dedicate their lives to doing it. In one sentence, a very enlightening experience that I hope I can attend again."
The meeting was held Friday, March 23, 2018 at Northwestern Memorial Hospital.
The following Lake Forest College students have won awards at the conference since 2003:
2016
Morgan Marshall '16, 1st Prize, is a research lab manager at Northwestern Feinberg School of Medicine, will begin a Masters degree in biomedical Communication at University of Illinois at Chicago.
2015
Josephine Masandika '16, 2nd Prize, is pursuing a Masters degree in Biomedical Engineering at the University of Illinois at Chicago.
Alexandra Roman '16, 3rd Prize, is pursuing a MD degree at the Medical College of Wisconsin.
2014
Maiwase Tembo '15, 3rd Prize, PhD student in life sciences at the University of Pittsburgh.
2013
Ashley Reich '13, 2nd Prize, is currently working as a scientist with Tyson Foods.
Natalie Kukulka '13, 3rd Prize, MD student at the University of Missouri (Columbia).
2012
Sydni Cole '12, 1st Prize, is complete her MD at Northwestern Feinberg School of Medicine and will begin her neurology residency at Harvard University's Beth Israel Hospital.
2011
Madhavi Senagolage '12, 2nd Prize, is a PhD candidate in biology at Northwestern University.
2010
Derek Atchley '10, 3rd Prize, is a PhD candidate in cognitive and behavioral neuroscience at Wayne State University.
2009
Michael Fiske '10, 1st Prize, is a PhD student in neuroscience at Northwestern University.
Ray Choi '09, 3rd Prize, completed his MD from University of Colorado and is an anestheiology resident at Rush Presbyterian Hospital.
2008
Stephanie Valtierra '08, 2nd Prize, received her PhD in neuroscience at Northwestern University.
Alexandra Ayala '09, Honorable Mention, is a math and science teacher for Teach for America.
2007
Michael White '07, 2nd Prize, MD 2012, is completing his neurology residency at Washington University, and is completing a neuro-oncology residency at Massachusetts General Hospital and Harvard Medical School's Dana Farber Cancer Center.
2006
Michael Zorniak '07, 3rd Prize, PhD in neuroscience at University of Wisconsin-Madison, and current Medical Liaison with Norvartis Pharmaceuticals.
2005
Arun Paul '05, 1st Prize, MD 2012/PhD 2010, RFUMS. He is currently an assistant professor at the University of Alabama-Birmingham.
David Mann '05, 3rd Prize, MD (2009, Ross), is now a physician in the Chicago area.
2004
Isaac Holmes '05, 1st Prize, MD (2009) and Residency at Rush Medical College; currently physician at Bellevue Hospital (New York).
2003
Jillian Hibler '04, 2nd Prize, DVM 2007, Washington State University.
Nijee Sharma '04, co-3rd prize, MD (2011/PhD 2009) Loyola; MD residency in neurology at University of California Davis; Assistant Professor in the department of Neurology at the University of California (San Francisco).
Brandon Johnson '03, co-3rd prize, PhD (received 2010) and Postdoctoral fellowship, Stanford University; Founder and Director of Cognitive Advantage (Palo Alto, CA).