<div style="background-image:url(/live/image/gid/95/width/1600/height/300/crop/1/42360_HOMECOMING_darker.rev.1523377981.jpg)"/>
Communications and Marketing
Wisdom from the wildflowers
A collection of photos taken by Associate Professor Glenn Adelson on his year-long sabbatical will be featured in an exhibit in the Durand Art Institute this spring.  
Adelson visited 15 countries on four continents to photograph more than 1,000 of the world's most beautiful and diverse plants in their native habitat.  
What is it about flowers that makes humans love them so much? Adelson spent his sabbatical looking for answers to this question. He traveled the world and photographed hundreds of beautiful wildflowers, sharing them on his Instagram account @thoughtstoodeepfortears.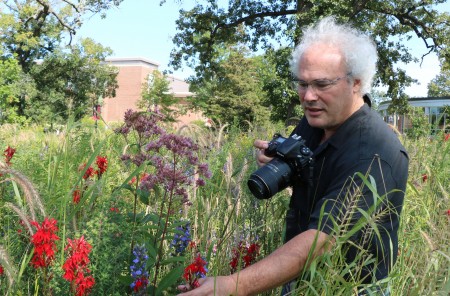 Adelson began his year-long sabbatical in January 2017 and has since uploaded more than 700 photographs to his Instagram account, which now has grown to more than 7,000 followers. He started his journey in the southernmost region of Africa, looking for native wild plants in Zimbabwe, Botswana, Namibia, Zambia, Lesotho, and South Africa. Adelson returned to the U.S. in late February and packed his bags and his car for the second leg of his journey. He spent the next 4 months driving through the American Southwest, up the West Coast of the U.S. and Canada to Alaska. In the summer, he flew to Europe and ventured to Ireland, England, Italy, Sweden, Ukraine, Norway, and Moldova. His journey concluded in Australia in November through January. Throughout his global trek, Adelson connected with local botanists and often stayed with friends and Foresters. 
Through his Instagram account, Adelson shows the wide range of diversity in the plants and wildlife he photographed and identified for his followers. His biggest goal of the project to change the way he and others teach botany. "When I am teaching in the field, I now know where a certain plant's relatives are and how there are some groups of isolated plants or some groups of widely dispersed plants," said Adelson. "It adds to the deep evolutionary story that each plant has to tell." 

Learning about biodiversity
When it comes to biodiversity, Adelson wants his Instagram followers and students to notice how different the wildflowers are from each other, yet how they are all based on the same set of organs. "People look at my pictures on Instagram and comment about how interesting it is to see how many different parts of plants are based upon the same ground plan," he said.
Adelson also believes the biodiversity he observed first-hand has allowed him to see the strong connection between nature and aesthetics. He specifically discussed his realization of a common philosophical and literary theory where one "always already" experienced what he witnessed. "The same idea occurs to me all the time as I experience different parts of the world with different ecosystems and species," he said. "It's as though I had 'always already' known or done these things."
Adelson's biggest surprise on his 12-month journey was experiencing a human connection to the universal beauty of nature. Specifically, there's a memory he holds deep. It happened while hiking at Land's End in Cornwall, England, and suddenly coming upon the moors in full flower with Cape Cornwall and the Atlantic Ocean in the distance. "Just turning on the path and seeing that, and then not quite realizing what it was, blew me away," Adelson said. Turning back to his philosophical side, he adds: "Now that I've experienced it, I can't un-experience it."
Throughout his yearlong journey, Adelson sometimes spent several days or more without finding any plants in flower. His mantra throughout the climatic extremes, physical and environmental obstacles, and long hours, was always, "never be disappointed." As he pushed on, it was the intrinsic beauty of flowers that kept him going. "There is a non-ephemerality of ephemeral things that makes humans love flowers," he said. "The individual flower is delicate and fragile, yet the species is so resilient and eternal that it has lasted longer than the human species."
And that is a deep thought to ponder.
 – By Tracy Koenn '18