<div style="background-image:url(/live/image/gid/95/width/1600/height/300/crop/1/42360_HOMECOMING_darker.rev.1523377981.jpg)"/>
Communications and Marketing
MLK Day program inspires
The frigid temperature and blowing snow didn't deter students, faculty and staff from attending the College's Martin Luther King Jr. Day Holiday Program on Monday.
Glenn Johnson and the Voices of Innerpeace sang inspiring musical selections to lead off the program. In his opening remarks, President Stephen Schutt said: "This is a very special day, an important day for the College."
Noting the "challenging times" in the US today, Schutt said it is important to reflect on King's message "to have empathy and to forgive many who are making mistakes but don't know the mistakes they are making."
Keynote speaker Vernon A. Wall, a nationally known leader on social justice and inclusion, inspired the crowd in Lily Reid Holt Chapel. Wall encouraged the group to give thought to their personal stories.
"I want you to reflect on who you are in this world and be sure Martin Luther King's legacy is part of who you are," Wall said. 
The annual program was sponsored by the Office of Intercultural Relations, the Gates Center, the Office of Residence Life, and Forester Athletics.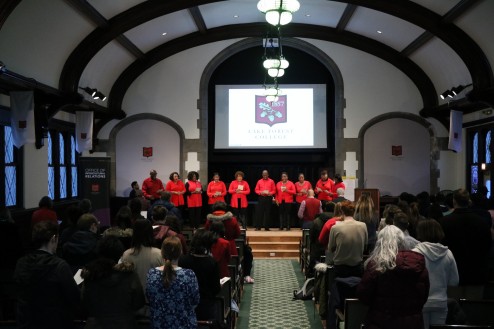 Glenn Johnson and the Voices of Innerpeace sang during the Annual Martin Luther King Jr. Holiday Program.