<div style="background-image:url(/live/image/gid/95/width/1600/height/300/crop/1/42360_HOMECOMING_darker.rev.1523377981.jpg)"/>
Communications and Marketing
Brain teasers: Foresters put third graders to the test
While most kids may enjoy recess, the third graders from Lake Forest Country Day School enjoy testing their brain power. During Our Amazing Brain Outreach, these students not only saw brains in the lab, but they also learned about the brain's many functions.
"This event is always a perfect way to get on the campus that's right in our backyard and expose the kids to what the College is all about," said Cindy Edwards, third-grade teacher at the elementary school.
As part of a non-traditional final for his First-Year Studies Medical Mysteries of the Mind class, Disque D. and Carol Gram Deane Professor of Biological Sciences Shubhik DebBurman had his students put together activities and explanations to demonstrate:
How we sense the world
How we integrate this formation
How we carry out actions
First-year students presented the program for two separate third-grade classes during the afternoon on November 28 and 30.
This community outreach effort provides Lake Forest College students experience in presenting to others what they have learned in class and strengthens connections between the College and its neighbors. 
Begun in 2003, this outreach program initially started as a partnership with North Chicago elementary schools. Over the years, the event has expanded and given more than 450 children the opportunity to learn about the brain's capabilities.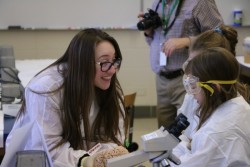 Traditionally, the visit begins in the lab, where the youngsters come into direct contact with brain samples and learn about the functions of the different parts of the brain. Once they understand the brain itself, the visitors partake in a variety of activities coordinated by DebBurman's first-year studies class to demonstrate how the brain carries out actions. 
"This event allows our students to look at how the brain and the nervous systems connect and work together with the rest of our body and all of our senses," said visiting science teacher Kevin Nicholson. "It's something they can relate to since they can now understand their brain and their day-to-day actions."
For the first-year students, the outreach program allows them to show that they have mastered their course material and can share that knowledge with others. The goal of the activities they put together are to show the brain's integration of the planning and decision-making, attention, and memory functions. 
"The kids we bring here really enjoy it and it's always a lot of fun for them," Edwards said. "You can see how engaged they are and they have a great time."