<div style="background-image:url(/live/image/gid/95/width/1600/height/300/crop/1/42360_HOMECOMING_darker.rev.1523377981.jpg)"/>
Communications and Marketing
Don't miss Sounds of the Season concert Friday
For Rachel Manchur '18, this event will be especially memorable, as it is both her final concert and her debut as a conductor.
"This will be my last concert at the College, and I must say that it is incredibly bittersweet," said the senior. 
Manchur will also be conducting "In the Bleak Midwinter," a piece arranged by Tom Race, for the women's choir, which she said,"will be an exciting experience since I will be the first music education student to conduct a piece at a concert like this."
The choirs, orchestra, concert band, and jazz band will perform several spirited selections at 7 p.m. in First Presbyterian Church of Lake Forest. The performance will be livestreamed here.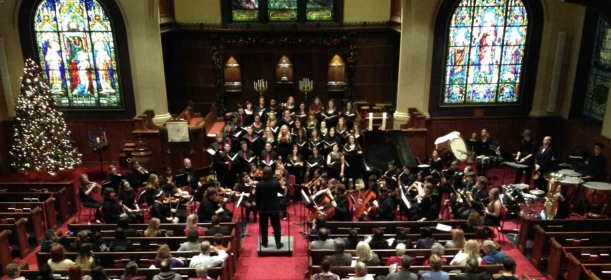 The combined ensembles will conclude the Sounds of the Season concert with a world premiere performance by the combined ensembles of the four-piece movement "Christmastide" by Anthony Bernarducci.
"I can't wait for everyone to see the hard work that has gone into this concert," said Alexa Andrews '19, a member of the concert choir. "My hope is that the audience loves listening to the music as much as we love creating it,"
Assistant Professor of Music Anne Barry, Assistant Professor of Music Scott Edgar, Senior Lecturer in Music and Jazz Ensemble Director Mitchell Paliga, and Associate Professor of Music Nicholas Wallin will conduct the performances.
The Department of Music at Lake Forest College offers a variety of performance opportunities in its multiple ensembles, each of which the entire College community is welcome to participate in regardless of degree path.