<div style="background-image:url(/live/image/gid/32/width/1600/height/300/crop/1/41839_V14Cover_Lynch_Artwork.2.rev.1520229233.png)"/>
Lake Forest College and Rosalind Franklin University: Teaming up for Success
Expanding Horizons
Being a biology major at Lake Forest College is more than just taking a few classes here and there before receiving a piece of paper at the end of a four year run. Students who choose to enroll at this institution and who are interested in pursuing the biology major are looking for a little bit more. Because of the school's small class sizes, students get the chance to learn all about the interesting facets of biology, but they also get a chance to build a strong relationship with the various professors in the department. There is, however, one thing that the small biology department cannot provide for the ever growing number of biology majors at this school; an opportunity to do research.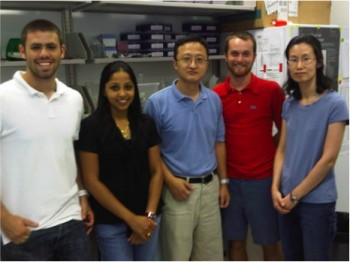 The Dr. Kim C. elegans lab team at Rosalind Franklin University of Medicine and Science, including Jon Flaksman '11 and Will Press '11.
Research is the one thing that allows students to take the knowledge they have gained and apply it in a real world situation. The opportunity to do research at Lake Forest College has been available for students for years, but because the faculty size is small, not every student has the opportunity to conduct research if they so desire. Another limitation for a student can be their field of interest. Because the field of biology is so large, it is impossible that every type of research could be available at Lake Forest College. Most students, in the past, who have had an interest in conducting research in other areas have had to reach outside of the campus to accomplish this.  As good as this sounds, some potential problems can emerge. One thing that can be generalized about outside institutions is that they favor their own students, which makes it difficult for students from Lake Forest College to get a spot. Next, if one is accepted to do research in the outside institution, transportation is difficult because it can take over an hour just one way.
Some students, though, have been able to avoid such problems by applying for summer internships at Rosalind Franklin School of Medicine and Science. Not are there a multitude of fields that are available to apply for, but the school is located just within 5 miles of Lake Forest College. After a few years of Lake Forest College students performing research at Rosalind Franklin, Dr. Kuei Y. Tseng from the Department of Cellular & Molecular Pharmacology, noticed the great interest that biology students coming from Lake Forest College had in conducting summer research; some of them even stayed throughout the fall and winter in order to collect enough data to write a senior thesis.
This inspired Dr. Tseng to contact Dr. Shubhik DebBurman of Lake Forest College in the attempt to set up an exclusive program where many different research scientists from the University would open their doors to Lake Forest College students. Since the program began in 2008, the number of Lake Forest students participating during the summer has grown from just three the first year to thirteen this year.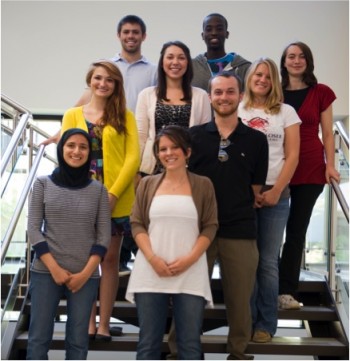 The 2010 class of Lake Forest College-Rosalind Franklin University of Medicine and Science summer fellows included biology chemistry and neuroscience majors from first-year to senior thesis studnents worked in various pharmacology, cell biology, neuroscience labs.
When speaking with Dr. DebBurman, he emphasized that "the need to develop scholars from this school is central because many of the students that come to study biology at Lake Forest College are extremely motivated to further their careers in the biological field," and this program offers a wider range of research topics that students can become a part of. This really helps the students decide how they want to further their careers by allowing them to try out different labs different years if they so desire.
When speaking with Dr. Tseng, he made it evident that his experiences with Lake Forest College students were all positive, "I like it that students from Lake Forest come well prepared in neuroscience and not just looking to put something down on their CV, but are very interested in conducting this research to further their careers." Dr. Tseng also makes it clear that accommodation of the students is also a high priority for the institution, which offers summer housing for the students at just $20-30 per week. This way, the students can have an easy access to the laboratories at all times, which allows for their experiments to be carried out in a consistent manner.
Another one of the research scientists, Dr. Michelle Hastings from Cell Biology and Anatomy, said that she enjoys the fact that this program gives students to carry out research during their undergraduate careers because she did not have the opportunity to do so as an undergraduate.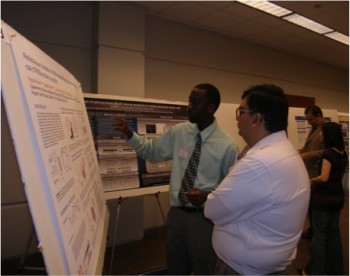 Pascal Accoh '12 (a 2009 and 2010 summer fellow at RFUMS) presents his research with RFUMS professor Kuei-Yuan Tseng at the 2010 Great Lakes Chapter-ASPET meeting.
The Professors were not the only ones that had positive things to say. I actually had the opportunity to do some research at the institution over this past summer. As a senior who has been in various types of laboratory courses at Lake Forest, I found that doing research can be fun at times, but also have its hardships. I was accustomed to working off of recipe sheets that consistently gave me the results that I wanted, but after doing research over the summer, I realized that science does not work that way. It is, in fact, very common to go without results for a long period of time before getting a significant piece of data. I think that this is something that more students should be exposed to before they decide to continue their careers as research scientists.
Pascal Accoh, now a junior at Lake Forest College, has been doing research at Rosalind Franklin for the past couple of years during the summers. "I enjoy doing research at Rosalind Franklin because I get to work on a project that I would not be able to work on at Lake Forest." He also mentioned the great mentoring he receives from Dr. Tseng if he runs into any problems, and his project has flexible hours, which allows him to prioritize coursework, while still performing research.
It is obvious that the program that has been established between Lake Forest and Rosalind Franklin is truly beneficial for a biology major's experience at Lake Forest College. Not only is the transportation easy, but getting to experience what it is like to be a scientist first-hand is truly something that can be held onto for the rest of one's life, even if you don't end up choosing the path of research. As Dr. Tseng said, "If we get ten research students and only one of them continues down the path, the program's objective is fulfilled."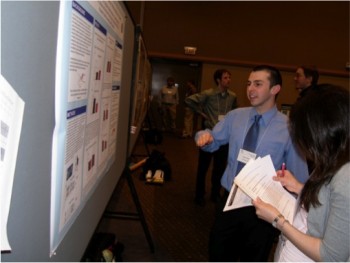 Derek Atchley '10 (a 2009 summer fellow at RFUMS) presents and wins a poster prize at 2010 Chicago Society for Neuroscience meeting.