<div style="background-image:url(/live/image/gid/95/width/1600/height/300/crop/1/42360_HOMECOMING_darker.rev.1523377981.jpg)"/>
Communications and Marketing
Introducing the Lake Forest College InnovationSpaces
Lake Forest College recently announced the launch of InnovationSpaces, a network of creative environments where members of the community can enter virtual worlds, create 3D prints, record audio and electronic music, and more.
The InnovationSpaces are a a collaboration between LIT and Digital Chicago designed to help students, faculty, and staff explore, extend, and expand skills in virtual reality, 3D printing, audio and electronic music recording, theater set construction, photography printing. The Spaces include some familiar departmental locations—art, music, and theater—as well as two important new locations: the MakerSpace and the VirtualSpace.
The MakerSpace (LI 227), located across from and supported by LIT's Brown Technology Resource Center (TRC), includes a Flashforge CreativePro dual-extrusion 3D printer, on generous loan by the Art Department, with biodegradable PLA 1.75mm filament in multiple colors. The MakerSpace also includes a Qiilu Micro Engraving Machine, a Jintai JT-18 Vacuum Forming Machine, and a MacBook Pro for 3D design work.
The VirtualSpace (LI 212), formerly called the LIT Rhetoric and Production Room, is a hub for virtual reality (VR) and 360-degree exploration. Equipped with two amazing HTC Vive VR systems and a full green-screen production studio, the VirtualSpace lets you engage with and produce immersive media and explore the latest developments in virtual technologies. All of the uses and functions of the Rhetoric and Production Room are still exist as well.
See an example of how VR looks and feels in the video below:

The VirtualSpace is staffed by student VirtualSpace hosts David Barry '20 and Nemanja Crnomarkovic '21, who, along with Davis Schneiderman, Emily Mace, and David Levinson, can show you a suite of experiences specific to your academic area and interests. Two upcoming courses, ENGL 244: Writing Science Fiction (Spring 2018) and ENGL 226: Introduction to Virtual Reality (Summer 2018) will both make use of the VirtualSpace.
The InnovationSpaces website offers instructions on how to access these spaces. If you have an interest in getting involved to support these efforts, please contact one of the following members of the Innovation Spaces group:
Karen Blocker
Connie Corso
Jim Cubit
David Levinson
Emily Mace
Davis Schneiderman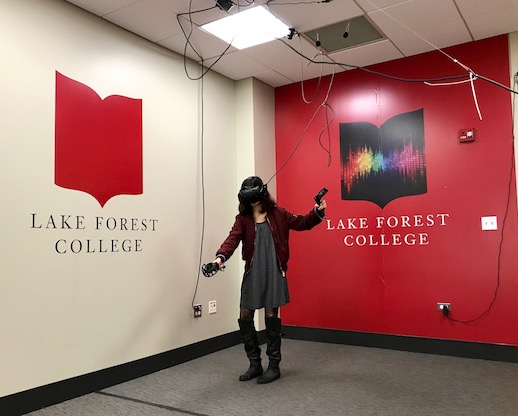 Zanub Husain '20 explores virtual reality