<div style="background-image:url(/live/image/gid/32/width/1600/height/300/crop/1/41839_V14Cover_Lynch_Artwork.2.rev.1520229233.png)"/>
New Rush University Nursing Partnership "Aids" Undergraduates
Expanding Horizons
Allie Urbanik
Krista Kusinki '08, a Lake Forest College graduate, made her own path to nursing school. Many other Lake Forest students have done the same in past years, but not anymore. Our new fellowships will make the road to nursing school less bumpy and more navigable for future Foresters.
Recently Lake Forest College's Pre-Health Advising collaborated with two great universities: Rush University, College of Nursing and Rosalind Franklin University of Medicine and Science (RFUMS). Rush University has an incredible nursing program that is renowned throughout the country, and Rosalind Franklin University of Medicine and Science is a well-established institution, expanding their programs to include pharmacy for the first time this year. Through the guidance of Pre-Health Advising, students pursuing a degree in nursing or pharmacy now have a projected course schedule and a group of advisors to help them reach the next phase of their educational career.
Dr. Karen Kirk chairsPre-Health Advising, a group of faculty members who assist students interested in any pre-health profession.Pre-Health Advising's goal is to help students select the right courses for a continued education in health and provide assistance and advice in selecting and applying to medical schools. Students interested in nursing or pharmacy now have an even greater advantage due to these affiliations.
Rush University College of Nursing, one of the best nursing programs in the country, is now affiliated with Lake Forest College through this new pre-nursing curriculum. For those who are considering nursing, the prerequisites are not much different than any other pre-health profession. However, to cater directly toward Rush University, some specific courses have been added to the list. Pre-nursing students are only required one semester of organic chemistry and have the option of either taking statistics in the math department or taking two semesters of research methods in the psychology department. In addition to these alterations,Pre-Health Advising has specified several upper level and additional courses that will benefit students looking to enroll at Rush University. These suggestions include: microbiology (Bio320), animal physiology (Bio340), and food(Bio106). If these courses are completed with a GPA of 3.0 or greater, LFC students will receive a recommendation from HPAC, leaving the student only to complete an interview with Rush University to gain acceptance into the prestigious nursing program.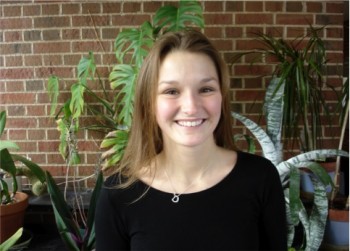 Nurse Krista Kusinski '08 is excited to hear about the new Lake Forest fellowship programs!
Krista Kusinki '08 is a student who was accepted into Loyola University Chicago's accelerated BSN program.. She affirmed that her biology major from Lake Forest College helped her make it through the program when she wrote, "…I felt I had a step up on many of my classmates because I already understood how our cells worked on a molecular level, which is so important in nursing." Kusinski was also ecstatic to hear that the professors at LFC had secured an affiliation with Rush University especially for students interested in nursing. In the past, there was no affiliation, but students were not left without guidance. Kusinski confirmed the positivity of her LFC experience when she said, "The LFC professors were great helping me to find the path that was right for me and getting me prepared for my future career."  The new affiliation will help future LFC students like Kusinski plan their pre-nursing curriculum with an edge.
Students pursuing pharmacy also have an advantage by attending Lake Forest College. In recent years, the LFC science department has collaborated with Rosalind Franklin University of Medicine and Science. For example, the availability of summer internships can lead to thesis research topics for undergraduates. One student with such an experience is Derek Atchley '10, who affirmed, "The experience was really good for me. It gave me a chance to have real laboratory experience, to talk with Post-docs and people working on their PhDs in the field I am interested in. It gave me a chance to see firsthand what my future would be like if I chose to go that route." Atchley's experience at Rosalind Franklin played a key role in his post-graduate plans to continue his research. Dr. Rozenkranz, Atchley's Rosalind Franklin advisor, assisted him in his search to find and obtain similar research opportunities at other institutions.
Our relationship with RFUMS is expanding beyond the field of research to pharmacy as well. RFUMS approved their new College of Pharmacy last summer and plans to educate several hundred students in pharmacy in the next few years. Acting on the advent of this new program, LFC secured an integrated program with RFUMS to provide students with more connections. The RFUMS/LFC program involves three years at LFC with a planned curriculum before moving on to RFUMS College of Pharmacy to complete four more years. Students participating in this program will then receive their undergraduate degree in biology after completing one year at RFUMS. The curriculum for the pharmacy program varies slightly from the typical pre-health courses, catering to the students' goals of attending pharmacy school. The curriculum introduces courses in economics and English in addition to the same core classes as other pre-health curriculums. This 3-year program will help students gain a degree in pharmacy more quickly and directly.            
The RFUMS and Rush fellowships not only benefit the students that are interested in nursing or pharmacy, but will attract prospective students to LFC, provide options for current LFC students, and prepare LFC students to be quality applicants to graduate schools. The new LFC fellowships form connections with graduate school that could continue to grow and expand into fields outside of nursing.