<div style="background-image:url(/live/image/gid/32/width/1600/height/300/crop/1/41839_V14Cover_Lynch_Artwork.2.rev.1520229233.png)"/>
BIO106: Bridging the Gap Between Science and Non-Science Majors
Science of Teaching
Have you ever tried reading an article in a foreign language with only one or two years of exposure to that language in high school? If the answer is yes, then you probably felt frustrated since you might have understood the overall theme of the article but not the details that you were trying so hard to comprehend. Reading in a foreign language is how a non-science individual feels when opening such science magazines as Cell, Science, etc. However, a class named "Food", BIO 106, taught by professor Ann Maine for non-science majors helps close this gap.
Xochitl Flores '13 with her poster about Anorexia.
Professor Maine created the class as a response to a public health class that she has taught for many years. In the end of the semester evaluations, Professor Maine saw that students often pointed out that they wanted to learn about such topics as nutrition and obesity. In response to the students' demands, the class simply named as "Food" was created. The goal of the class, according to professor Maine, is for "non-science majors to understand science and to see how it affects their everyday lives." Through a variety of exercises including exams, group projects, reading primary literature, and an individual poster presentation at the end of the semester students learn the biology behind food intake and how specific foods affect our body. The students learn about the basic nutrients, food sources, as well as important diseases associated with food such as heart disease, diabetes, cancer, and osteoporosis.
While the students are introduced to complex biological concepts such as the relationship between the brain and digestive system, Professor Maine wants students to also remember the big picture about the effects of food intake on our body. For example, she wants students to know about the importance of fiber in our diet because fiber intake can prevent certain cancers from occurring. A former student, Tara Viehweg, states, "I like that biology was made applicable to my life. Now, I can look at food and understand the nutrients that it contains and its functions. I think that's very cool." Another former student, Cynthia Sandoval emphasized, "Professor Maine gave information that we will use on a daily basis and that will make us conscious about our food choices, especially because we studied so many diseases that are directly related to our eating habits." Additionally, Professor Maine makes the course appealing to the diversity of her students, such as athletes taking the course. She introduces the class to specific muscle types, training regimes, and diets that are available to athletes.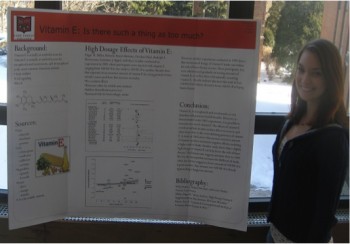 Tara Viehweg '14 with her poster about Vitamin E.
After a semester of hard work, the students had to face a true test. Could the non-science majors convey the complex concepts of biology to the student body of Lake Forest College? The students took part on a journey of choosing a topic that interested them and then doing in-depth research on the topic. In the end, the students had to create a PowerPoint poster, which was presented outside of the Lake Forest cafeteria. The project satisfied one of the goals of the class: to teach the student body about healthy eating choices and the effects of food on our body. During this outreach presentation, the posters of three students stood out: Cynthia Sandoval '12, Tara Viehweg '14, and Xochitl Flores '13. Professor Maine emphasizes that these three students took the material they learned in class, branched out, and taught themselves basic biology that was not taught in class. They did an excellent job researching a topic of their interest, selecting primary literature, understanding it, and presenting it to the student body.
The three students did an immense amount of work understanding the topic of their choice and incorporating the complex biological concepts into their presentation. However, most importantly, the amount of biology was not overwhelming and the story was told in simple language to appeal to the diverse audience of our nutrient intake and Alzheimer's disease. Based on current primary literature, she concluded that intake of antioxidants such as Vitamin C and E can protect cells from the damage by oxidant radical species, which has been linked to be one of the culprits in Alzheimer's disease (AD). Interestingly, studies link reduction in carbohydrate intake to lowering the risk of AD. Finally, Sandoval points out that moderate consumption of red wine has been shown to decrease the AD-type cognitive deterioration in a mouse model.  Viehweg's topic is very relevant to today's society since many people are obsessed with taking vitamins. She explores the topic of the effects of too much Vitamin E on our body. She points out that taking too much Vitamin E can be deadly, and that a person only needs 100 IU of Vitamin E per day. Finally, Flores researched a devastating eating disorder: anorexia. She looked at the importance of the hypothalamus in anorexia. Based on primary literature, she concluded that specific chemical abnormalities in the hypothalamus can lead to decreased feeling of hunger which can lead to anorectic behaviors and ultimately anorexia.
The students of BIO106 had a chance to learn about a spectrum of topics and be able to master such skills as presentation making and improved their critical thinking skills.  Flores states, "What I liked the most about this course was that I was challenged with difficult biological concepts and I was required to think outside the box." Overall, even though every student pointed out that the class was challenging, they acquired skills that will only benefit them in their future endeavors and help them stay healthy. After taking this class, the once foreign language, with practice, became the native tongue.  What more can a student ask for?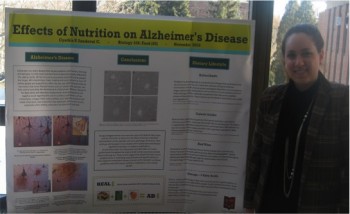 Cynthia Sandoval '12 with her poster about Alzheimer's Disease.