<div style="background-image:url(/live/image/gid/32/width/1600/height/300/crop/1/41839_V14Cover_Lynch_Artwork.2.rev.1520229233.png)"/>
Diverse BIOLOGICAL Choices for INQUIRING Minds
Alex Reeder, Nadia Vinogradova and Allie Urbanik
Download PDF 
Science of Teaching
Biology Inquiry classes are taken by freshman who are in their spring semester. The purpose of these classes is to prepare students for the heavy course work in upper-level biology classes. Although there are quite a few of these classes, we have decided to highlight a few of them in this article.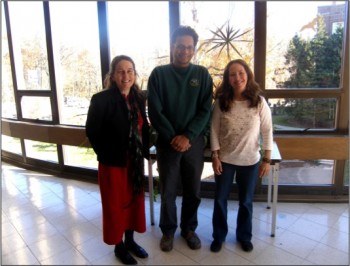 Dr. Ann Maine, Dr. Shubhik DebBurman and Dr. Lynn Westley (left to right) are professors teaching the biology inquiry classes.
Bio Inquires: Deadly Shapes, Hostage Brain
Allie Urbanik
As a freshman looking at the spring 2010 course catalog, I remember being overwhelmed by the multitude of Biology Inquiry classes. I browsed over each description carefully, of which there were about six. The description of one of the classes immediately caught my eye: it announced that we would get to work with brains! That class was Dr. Debburman's Deadly Shapes, Hostage Brain class. The description stated that we would not only get the chance to work with actual human brains, but would also get to go to a national neuroscience conference. Both propositions really interested me, and were some of my initial deciding factors.
The class did not turn out to be all about working with brains, of course. Much of the course centered around group presentations, lab and neuro-anatomy work, novel and ethics discussions, movies, disease capsules, and one huge 45 minute journal club presentation. From my perspective, the objectives of the course were to become familiar with reading and presenting primary literature, and to also make academic connections to the real world of science. From Dr. D's perspective, the goals were to help first year students understand and communicate primary literature to diverse audiences. We would get the opportunity as first year students to present our work at the student symposium (what Dr.D considered as the capstone of the class), and to attend a national scientific conference. It was really interesting to see how the work we did preparing for our journal club and student symposium translated to the work graduate students and researchers do to prepare for national conferences. The significance of what we studied truly made the course pertinent and innovative. Also, the connections to scientific events and happenings, and the opportunities to actually do and present research made the class not only fun, but also relevant to the real world. 
Looking back, I can say that I am very happy that I decided to take Deadly Shapes Hostage Brains. Yes, the course was very demanding, but I walked away feeling proud of what I had learned and accomplished. So, when you find yourself thumbing through the Bio Inquiry classes really do give this class some consideration. You will not only be learning fundamental neuroscience, but also, how to become a scientist. 
Bio Inquires: Diet and Disease
Alex Reeder
The first day of my Diet and Disease class, I walked into Johnson room two hundred with a good feeling about this class. There were about fourteen other freshmen on the first day, and Dr. Anne Maine seemed like a nice professor. After going through a general overview of the class, Dr. Maine passed out the syllabus. As the end of class drew near, Dr. Maine played a clip from the movie Frankenstein (1933), in which the narrator shouted at people, encouraging them to run away and turn around before it was too late. At that point, I knew this class was going to challenge me.
Throughout the duration of this class, we studied the effect of our diets on different diseases. For example, topics included fiber in the role of colon cancer, dietary vitamin D in the role of prostate cancer, and how fat content in one's diet can affect prostate tumor size. My favorite topics were cardiovascular disease and atherosclerosis, which we spent a considerable amount of time studying because it is a growing problem in America. At the culmination of the semester, my classmates and I were to each give a thirty-minute presentation on a diet related disease or a nutritional supplement. We began working on these presentations in the middle of the semester, meeting with Dr. Maine about our topics and primary articles. Speaking in front of the class was a source of anxiety for my classmates and I, but as we prepared for our presentations, we each found that we had more than thirty minutes of material to share with the class. After I gave my presentation, I felt accomplished because I had overcome this hurdle as a freshman.
Acquiring the skills needed to utilize reading primary literature was a main goal that Dr. Maine strived for in our class. She says that although people want simple answers to their health problems, the solutions are not always simple. She wants to keep students informed and hopes that by the end of the class "they eat a little better". My classmates and I could not have accomplished the goals of Biology Inquiries without months of hard work and constant support from one of the most dedicated professors in the science department, Dr. Anne Maine.
Bio Inquires: Tropical Rainforest
Nadia Vinogradova
The rest of the syllabus consisted of blank paper. It was the first day of class, and Professor Lynn Westley asked the mildly bemused students to design their own syllabus. "It's different every time I teach it," she said, but the goals are the same: to prepare students for upper level biology courses. This includes work in small groups on journal presentations, practice reading, writing and interpreting scientific literature, and the experience of presenting publications and posters to the class, all communication skills indispensible to the stereotypically incoherent scientist, all of which I have improved in tremendously thanks to this class.
"I was a biology major at Grinnell, and I spent a semester in Costa Rica," said Westley. During this semester abroad our resident botanist discovered her interest in plants. "When you're in the rainforest it's not the animals you see – those are up in the canopy – it's the plants."
Students in Westley's inquiry class got to explore firsthand the plants in the Chicago Botanic Gardens on one of the class's fieldtrips. The class was treated to a behind-the-scenes tour of the newly built labs at the Gardens, and met specialists such as Dr. Louise Egerton-Warburton who studies soil and microbial ecology. On another memorable trip, Lake Forest graduate Laura Hilstrom led the class around quarantine tanks and shared pointers on how to properly feed blacktip reef sharks. Hilstrom interned at the Shedd as a student and currently works as a Senior Aquarist for the Shedd Aquarium.
These fieldtrips are designed to broaden students' perspective on careers opportunities in biology. Biology is not limited to healthcare professions. "What I think is important for freshmen is to see that there is a whole world of Biology out there," said Westley. Apart from trips students learn scientific writing in response papers and read Tapir's Morning Bath, a fascinating firsthand account of scientists struggling to explore the disappearing rainforest's diversity on Panama's Barro-Colorado Island. Films exploring the chemical effects of the cocaine industry's toxins washing down streams and a taste-sampling of rainforest foods (chocolate) supplemented the course in such diverse fields as chemistry and cuisine to give a broad perspective on both tropical rainforests and the variety of careers open to biology students.
A particularly creative challenge was the all-campus scavenger hunt where we corresponded directly with scientists and raced to capitalize on campus resources and discover hidden articles - which we then read in journal club. I thoroughly enjoyed the course and found it intellectually stimulating and rewarding. Rewarding with an acquired perspective on scientific literature, on possible niches of study in the field, and on the fleeting, undiscovered wonders of the tropical rainforest.