<div style="background-image:url(/live/image/gid/32/width/1600/height/300/crop/1/41839_V14Cover_Lynch_Artwork.2.rev.1520229233.png)"/>
Lake Forest College: A Model for Teacher Education
Science of Teaching
In 2008, TIME magazine reported that the United States had a high school graduation rate of 77%; the same year, Alliance for Education added that this number was well below that of other developed countries. Throughout United States history there have been several attempts to refine our education system, including curriculum changes during the Cold War and the implementation of the No Child Left Behind Act less than a decade ago. Unfortunately, the U.S. continues to lag behind in their education system compared to other nations. In fact, in 2009 the National Center for Education Statistics noted that eighth graders from nine other countries performed better on a worldwide-administered test than the students from the United States; and, the greatest failure can be noted in science education. There are many items to blame for our current education system including unequal distribution of resources, politics, precedence, and unprepared teachers. Though it may be difficult to avoid these problems, it is a reasonable approach to better prepare our teachers because the truth is, "it is no secret that we have a shortage today of great teachers in schools and communities where they are needed most. Teacher openings in science [especially]…are often hard to fill with effective instructors". Arne Duncan, the current U.S. Secretary of Education, noted these words in November 2010.
As a prospective middle school and high school biology teacher, I will present the possibility of improving our education system through better-established teacher training programs. This will be done through personal accounts from alumni Erika Koesling, Amy Krueger, and Jackie Hogan, who are currently science teachers. In addition, I will include some insights from Elizabeth Ross '11, who is finishing up her degree to become a grade school and middle school science teacher, and some notes from myself.  Together we present the excellence that surrounds the Lake Forest College's education and science programs.
Though the idea here is to present how Lake Forest College demonstrates a successful education program, it is also important to highlight the science programs because one of the main reasons for the school's successful teachers is the required second major. This allows teachers to be specialized not only in teaching, but in the subject in which they want to teach—a logical approach no doubt. Unfortunately, this is not required by all teacher preparation programs. This explains why despite many teachers holding bachelors degrees, "many are teaching subjects for which they had little or no training" as noted by National Science Board in 2002.
The required two majors allow prospective teachers to learn from well-established curricula that both disciplines have to offer. In the education department, it is likely that many of the courses taken by students at Lake Forest College are those which are taken by students across the country. However, what makes the education department unique from a number of other institutions is the required face time teachers in training have with classroom environments. For example, in just the first two years students are asked to observe teachers. In their third year, students complete what is called "field-work," where they observe a classroom and begin teaching practices for almost a complete semester. Finally, as is required of many other programs, students are to complete student teaching. Though many of us will admit the rigor of such a set-up, we all argue the benefits that come forth. For instance, Krueger noted how much she was able to gain from both middle school and student teaching experiences. Ross actually completed two field-work requirements because she would like to teach both grade school and middle school, which demonstrates the extent to which the education program puts great emphasis on preparedness.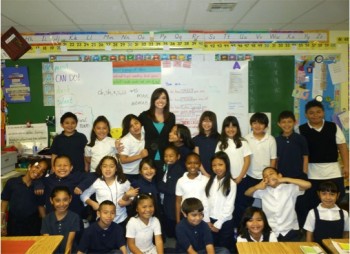 Elizabeth Ross '11 (center) at a Waukegan School where she completed her fieldwork for Elementary school teaching.
I will soon begin my own fieldwork and was whole heartedly touched when Ross explained how much she enjoyed and learned from her fieldwork and spoke of how the students "take to you." It is these experiences that allow teachers to realize just how much of a difference they will make. In addition to the hands-on experiences available to prospective teachers, there are some courses in the department, which many not be found in all teacher preparation programs. I, for example, was required to take science courses outside of biology. This demonstrates how well the education department understands the importance of providing the "bigger picture," as this is when the teacher makes connections and can better teach his/her students. Further, some other education courses allow students to learn about multicultural education and how it is important to realize the variety of learning styles among students. Krueger remembers taking this course and wrote "had it not been for the multicultural diversity requirement, I probably would not have taken that challenge during college. I now teach in a high school with 3,000 students of all different ethnic backgrounds." Ross also noted the learning experience she has had with multicultural teaching and how she learned the importance of framing teaching methods according to learning styles. The science curriculum too has proved to be a great asset in the teacher training process.
For example, having a second major in biology has made me realize the wide range of courses that are required of biology majors–from learning about the neuron to the hormone actin found in plants. In addition, the courses not only provide students a strong hold on biological knowledge, but skills that can be carried overall to the workplace. Ross remembers learning to work with others through group projects and learning to prepare visual presentations for the purposes of teaching a larger audience. I too can attest to how greatly these experiences have developed my communication skills, both verbally and through a given medium. Everyone I spoke to also referred to the benefits of the required laboratories accompanied by many of the science courses. Krueger put it nicely as she writes, "The hands-on laboratories were very rigorous and quite demanding; however, I often refer to these experiences with my high school students or even just refer back to that knowledge gained from those lab classes." Hogan then wrote, "The design of the physics [and] chemistry laboratory courses helped me to build my confidence and independence in the laboratory…I have developed habits of learning that improved methods of preparing for class. This resulted in a much deeper understanding of the equipment and scientific concepts associated with each lab." It is indeed important for science teachers to attain laboratory experience as it provides them with the foundation with which to achieve understanding in science. Ross and I were also fortunate enough to attain summer research opportunities where we were able to further strengthen our knowledge of the scientific method.
Preparatory institutions must be taught to learn the importance of improving their approaches because it truly will make a significant difference. Many of us have found the professors here at Lake Forest College to be successful teachers, and as such we remember our experiences in their classrooms to be very informative and memorable. Krueger writes, "My chemistry professors at LFC were always able and willing to provide assistance outside of class," she continues on to say, "I can now empathize with my own high school students and offer my help to students in need of academic assistance." Koesling explains, "my professors were inspirational and motivating, they made me want to make a difference in the world and teach what I love, science…I will be forever grateful to my professors for giving me the guidance and direction I needed." While Ross had similar thoughts, she also believed that seeing her teachers' love for their subjects made her realize how important it is to project motivation for the students while teaching. Hogan very nicely summarizes everyone's thoughts about learning from their professors, "Each of these teachers has inspired my teaching style…I continually work toward developing this same atmosphere in my classroom and engage my students in curriculum that motivates them and gets them excited about chemistry." If we want our students to love science we have to learn to train teachers to convey the same motivation through teaching their subject as demonstrated by professors here at LFC.
Despite the fact that the LFC education and science programs have resulted in very successful teachers, this is not to say that the program is perfect. At times, students have to struggle to fit everything into their schedule, sometimes even having to take summer courses or student teach post-graduate like Krueger did. Duncan further says, "it takes a university to prepare a teacher. In other words, schools like Lake Forest College, provide teachers the resources to grow as not only instructors, but as a whole person—mind, body, and spirit. It is important that we begin taking steps towards refining our education system in ways that will actually make a difference. Improving the way we prepare our teachers is a place to start because in the end, "teaching is the profession that teaches all other professions," , shouldn't we take better care in preparing for a better tomorrow?