<div style="background-image:url(/live/image/gid/32/width/1600/height/300/crop/1/41839_V14Cover_Lynch_Artwork.2.rev.1520229233.png)"/>
"Paracrine Stimulation": The Lesser-known Facts of Beth Herbert
Faculty in Focus
It wasn't long into my first meeting with Beth Herbert that our discussion was abruptly interrupted. I heard the shuffle of feet behind me and turned around to see one of the Biology professors.
"Um, I have a quick question," he said. "My lab students are getting a lot of sodium fluoride on their hands. I know that's what's in toothpaste… but is that okay?" Beth smiled.
"It's probably fine, but have them wear gloves, if they're spilling it."  A week later, meeting with Beth for the second time, the same professor appeared at the door.
"We're having a problem with the autoclave," he said. "There's a lot of steam pouring out from it." I waited as Beth left to go and help the professor. While she was gone, I quickly scanned Beth's office, noting several elements: a few pieces of decorative glass on her desk, plants near the window illuminated by the few rays of sunlight that peeked over the roof of the Center for Chicago Programs, and behind me, a Blackhawks poster. She returned a few minutes later, ready to begin.
Starting with the basics, Beth talked of growing up on the southwest side of Chicago, near Midway airport. In high school, she took four years of science classes, as well as language classes. She also had her first encounter with the arts, through taking art history, ceramics, and painting studio classes. As Beth finished up her high-school years, she said she was "ready to get the heck out," but returns often, as her parents still reside in the area.
Beth attended college at the University of Illinois at Urbana-Champaign and talked with enthusiasm about an immunology class she took, taught by a Scottish professor, Roderick MacLeod. She said that he led an "exciting, cutting edge class," mostly based on direct, primary literature. "We'd see him in places like the cafeteria, and just sit and pick his brain," she said. Beth was also among the founders of a cellular biology journal club, who decided to name their group "Paracrine Stimulation." " 'Paracrine' " refers to a type of hormone signaling between cells," Beth explained, relating it to the journal club's enthusiasm and the way the members were able to stimulate one another through shared findings and studies.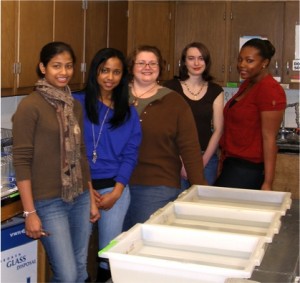 Beth Herbert (center) working in the stockroom with Madhavi Senagolage '12, Jordanah Evans '12, Kaylyn Gasparotto '11, Tasheka Aikman '11 (left to right).
Also unique about Beth's undergrad college experience was her University of Illinois dorm, Allen Hall. Attending a school of nearly 35,000 students, each dorm building was semi-autonomous, containing its own cafeteria,
Mailroom, gym, and computer lab. In addition to having its own darkroom and ceramics studio, Beth's dorm building also had a special guest-in-residence program where visiting authors, artists and other interesting figures would live in the dorm and interact with the students for a few weeks. "We got to meet a lot of really cool, inspiring people, who served as powerful role models for us as college students" Beth said, mentioning some of the more prominent guests. She spoke of Illinois Congressman John Anderson, who ran for President, social activist David Dellinger of the Chicago Seven, and Patch Adams, the medical doctor later portrayed by Robin Williams in a film of the same name.  "It was incredible to just go to breakfast and talk politics with a past presidential candidate," Beth said. Beth's dorm connections also allowed her to be part of a road trip to Washington, D.C. for the 25th anniversary of Martin Luther King Jr.'s "I Have a Dream" speech. "We stayed on a West Virginia farm of a prior guest-in-residence, and literally slept on bales of hay in his barn," she said, laughing.
After undergrad, Beth moved to San Diego, California, where she worked for four years performing signal transduction research in lymphocytes at The La Jolla Institute for Allergy and Immunology. After La Jolla and prior to starting graduate school, Beth also talked of a month spent traveling between Morocco, France and Poland, mostly on her own. "It was sometimes scary, but fascinating to travel by myself," she said. "In Morocco, I saw snake charmers and the most incredible markets." She continued, "In Rabat I even met a few hilarious guys from [the U.K.] who seemed straight out of Monty Python…They were just the best adventures." 
After the trip, Beth returned to the University of Chicago to pursue graduate studies in Molecular Genetics and Cell Biology, but eventually decided that a career dependent on grant funding wasn't for her. She made a few more stops before coming to Lake Forest, however, working in Alzheimer's research and clinical cancer cytogenetics labs at Northwestern University and the University of Chicago, as well as teaching elementary school science at an inner-city school on Chicago's west side. Of this, Beth said, "Teaching was the most demanding job, with many rewards, but also with many frustrations."
Moving on, I quickly learned that the decorative glass on Beth's desk was no random find; Beth said she started glass blowing as a hobby "six years ago," and did so with little experience in her repertoire. "I did do ceramics in high school and college," Beth said, "and I loved being able to make something beautiful out of earthly, organic clay." But, it was glass blowing that stuck. The place where it all started was "Water Street Glassworks," a non-profit studio and gallery in Benton Harbor, Michigan that held a "Paperweight Fundraiser" which first drew Beth's attention. She said she enjoys glass blowing because it's something "[you] have to be totally present in…[you have to] focus, think on your feet, and there's a great glass community…because you need a partner, you can't do it yourself." Beth did mention a downside to glass blowing, saying, "It can be an expensive hobby, so in that sense, it can be limiting." Nonetheless, Beth estimates that so far she has attempted anywhere from 50-70 pieces, though not all have turned out. Beth talked of how the skill lies in "learning the balance between gravity, heat and timing, and how to manipulate a 2,000 degree material that you can really only touch with tools." For her, Beth added, "It's more about the process of glass blowing, rather than the final outcome."
Her glass-blowing hobby aside, Beth also spends a good deal of her time volunteering, having helped install a 20-foot mosaic at Emmett Till Elementary School in Chicago, and helping monthly at Lydia Home, a safe haven for kids in foster care. "It's meant to be a reading program," she said, "but we got to spend the summer playing outside at a nearby park." Beth has also recruited two biology students to volunteer with her, and encourages others interested to contact her as well. Any remaining free time is dedicated to a variety of other leisure activities, including performing with the LFC African Drumming Ensemble, and being an avid Blackhawks fan. "In the past few years I've really gotten into the Blackhawks," Beth said, saying she and her husband enjoy going to the games. "It was so fantastic they won the Stanley Cup last year," she said, "we even got to see it when Patrick Kane surprised the crowd by bringing it to a concert we attended last summer."
Now that I was armed with the knowledge of her pursuits outside of Lake Forest College, Beth then gave me of a summary of her position, especially helpful for those unfamiliar with the inner-workings of the Biology Department. "In the most basic sense," she said, "I set up and break down each of the labs." She works closely with the faculty, "knowing what [the faculty] needs and see[ing] that it gets done." Beth manages the budget for the Biology Department, as well as a variety of other things. "From getting quotes and servicing equipment to ordering frogs for the physiology labs and picking up seminar refreshments," she said, just as, in completely perfect timing, a student stopped by the office to see if Beth had any food she could share for a snack.
As to what she enjoys most about working at Lake Forest College, Beth said she really "loves the diversity of the student body," adding that she "never imagined a small school would have such a mix of students from around the globe." Beth also mentioned that she finds satisfaction in "helping to train biology research students in technical skills," as well as values "getting to be an informal mentor" to students in the department. "I think many students want advice and to get non-judgmental feedback during this important time in their lives," she said, "maybe it's because I don't grade them, but I do find students open up to me quite easily."
By its close, the interview seemed to make perfect sense. Not knowing about Beth going into the interview, my interest was piqued by the objects I spotted around her office, taking them as a sign of diverse interests and experiences. Luckily for me, it only took a simple conversation to prove my hypothesis.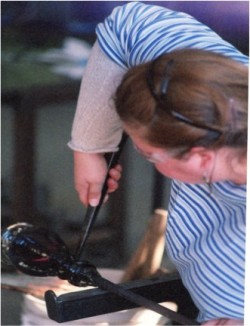 Beth Herbert performing one of the critical points in glassblowing-releasing the piece from the pipe with a few drops of water.