<div style="background-image:url(/live/image/gid/32/width/1600/height/300/crop/1/41839_V14Cover_Lynch_Artwork.2.rev.1520229233.png)"/>
The Furry Side of Medicine: The Life of a Veterinary Intern
Beyond the Classroom
It's 7:45 A.M. when I pull into the parking lot of the Animal Hospital of Lake Villa. I walk in, donning my navy blue scrubs and begin to prepare for the morning rush of surgeries. I make the surgical trays by getting tracheal tubes, IV catheters, saline, gauze and anything else needed for the procedure. After all the surgeries are completed, we clean up and prepare for round two: the afternoon appointments. I get the patients histories, start exams and brief the doctors. When our last appointment has gone we clean up and prepare for another busy day.
Over the summer I had the opportunity to start an internship at the Animal Hospital of Lake Villa as a resident intern. I was excited to find an internship that would be long term, and I jumped at the opportunity to gain hands on clinical experience. I would actually get to act as a vet assistant instead of just standing in the background, which unfortunately, is what most internships consist of.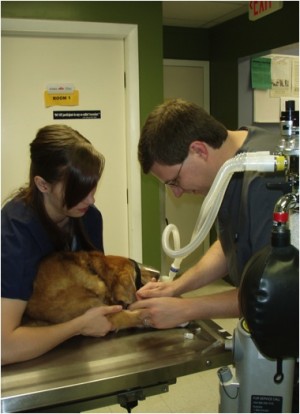 Allie Urbanik '13 (left) helps place an IV catheter before surgery at the Animal Hospital of Lake Villa.
The first week started off slow, as I was gradually shown the ropes. Not long after, the guidance slowly tapered off as I started gaining confidence and knowledge of the clinic's layout and routine. Now, I am proficient at everything from starting appointments, to drawing blood, to taking x-rays, and running diagnostic tests. I not only get to learn how real world veterinary medicine is practiced, but I also get to gain the hands on experience myself.
Some of my most memorable experiences happen while in surgery. I enjoy being able to have a real role in the surgical process- more specifically, prepping dogs and cats and recording anesthesia and vital signs- as well as being able to observe a variety of surgeries. The number of diverse surgeries that are regularly preformed astonished me. So far I've had the chance to see a leg amputation, several enucleations (eye removal), numerous neuter and spay procedures, and several lipoma removals.  I find it fascinating to see the surgical process of dissecting away tissue and suturing; it is truly a delicate matter that requires lots of skill. The resilience of the animals is also astounding. One surgery we preformed was an amputation of a front leg to due osteosarcoma. The catch however was that we were performing the surgery on a 130lb mastiff! I had my doubts as to how the dog would cope after surgery, but my misgivings were put to rest when immediately upon waking from anesthesia, the dog crawled over to me and tried to stand. Of course I tried to subdue the dog since I was concerned about her removing the sutures or doing too much too soon, but the resilience really amazed me.
I also enjoy helping out with appointments. Not only do I get to see every day clinical problems, but I also get to develop a relationship with the patients and the owners. Also, working in appointments allows me to connect what I am learning in class to the problems that we are treating. We once had a Sheppard come in who was having seizures. Our solution was KBr- something that I saw as a mere salt that I work with in organic chemistry almost daily. However, it dawned on me that the salt would have an effect on the action potentials of cells and would prevent more seizures from occurring. These real world connections make my undergrad courses relevant to veterinary medicine, and thus push me to do my best.
A career as a veterinarian is one that requires copious amounts of knowledge and skill. Compassion, innovative thinking and good problem solving skills are all required for a veterinarian. While becoming a vet is not an easy task, my time spent as a veterinary intern makes me strive to do my best so that I too may one day accomplish my goal. For me, becoming a veterinarian is not a matter of if, but when.  When that time does come, I will definitely be using the experience that I gained while interning to become the best vet I can be.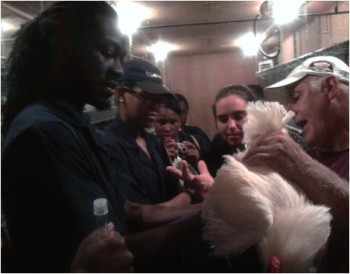 Alex Reeder '13 works with poultry farm manager at Michigan State to artificially inseminate hens.

Alex Reeder
The University of Michigan Provides an Enrichment Summer Program (ESP) aimed at economically or educationally disadvantaged students who live in the United States and its territories. The main goal of the VetBound program is to build up a group of well qualified students with the intent of preparing them for entrance into Vet school, in particular Michigan State University's Vet school.
The program is divided into three levels; ESP I, II, and III. Participants are placed according to their educational level and science/Veterinary medicine exposure. The program is set up to have students begin at level 1 and progress through the subsequent levels as they get closer to Vet school admission. Levels II and III are aimed at preparing students for the GRE, admission interview, and Vet school curriculum. They also work hands-on with Vets during the rounds that they take in the various departments in Michigan State's animal hospital, such as radiology, anesthesiology, neurosurgery, and general medicine. In addition to these rounds, these participants learn about veterinary pharmacology, pathology, parasitology, and canine gross anatomy.
Although these fields are important, a firm grasp of the fundamental science concepts behind them are also needed. I participated in the ESP I level, where we took organic and inorganic chemistry, physics, biology, math, and animal science classes throughout the duration of the 7-week program. Dispersed throughout these classes were field trips that we took to places like dairy, sheep, beef cattle, and swine farms. We also took trips to Potter Park Zoo, located in Lansing MI, where we each assisted Docents in different enclosures. I personally helped one of the docents that work in the penguin enclosure, which constantly smells of old fish. We hand fed the adult penguins, and I got a chance to touch and feed the newborn baby penguins. They make look cute, but they can inflict pain with those small beaks. We did physical and rectal exams on the dairy cows at the dairy farm on Michigan State's campus. When we walked into the dairy farm, there were about twelve cows lined up in a large, aerated room that smelled of cow manure. After the trip was over, I kept asking myself, "Did I really just have my entire forearm in a cow's rectum?"
In addition to these lifelong memories, I have formed close bonds with people of various ethnic backgrounds who all have the same ultimate goal as I, which is important when going through as process as demanding as this. We all plan to become veterinarians someday, and the different paths we choose shape us into the doctors we will be one day.