<div style="background-image:url(/live/image/gid/6/width/1600/height/300/crop/1/30024_area_studies.rev.1451945934.png)"/>
<div style="background-image:url(/live/image/gid/6/width/1600/height/300/crop/1/30485_library.rev.1454952369.png)"/>
<div style="background-image:url(/live/image/gid/6/width/1600/height/300/crop/1/30027_self_designed_major.rev.1451946126.png)"/>
<div style="background-image:url(/live/image/gid/6/width/1600/height/300/crop/1/30028_english-_literature.rev.1452013046.png)"/>
<div style="background-image:url(/live/image/gid/6/width/1600/height/300/crop/1/29871_papers.rev.1452013163.png)"/>
<div style="background-image:url(/live/image/gid/6/width/1600/height/300/crop/1/30025_education.rev.1451945980.png)"/>
<div style="background-image:url(/live/image/gid/6/width/1600/height/300/crop/1/29873_header-aerial.rev.1450206652.jpg)"/>
Internships: Preparing students for great outcomes
Reading what she thought was a routine email last spring, Johanna Hendriksen '19 responded "I'm interested" to her professor about for-credit summer internships. Little did she realize the process her reply would set in motion and the pivotal role that experience would play in her future.
Once her professor received Hendriksen's response, he alerted the Career Advancement Center (CAC)—one of the largest in the country for a college of its size—and Associate Vice President Lisa Hinkley and her team jumped into action. Because the College has an internship affiliation agreement with Rehabilitation Institute of Chicago (now the Shirley Ryan AbilityLab), they helped arrange an interview for Hendriksen, assisted with updating her resume, and prepped the then-sophomore for her interview.
As a result of that collaborative effort, Hendriksen walked into her meeting with the AbilityLab representatives fully prepared to present her skills, knowledge, and job readiness. She nailed the interview and landed the research position, where she spent her summer "doing cell cultures of fibroblasts and myoblasts from cerebral palsy patients and non-cerebral palsy patients to look at how drug treatments and therapies can help cells grow differently," the neuroscience major explained. Going into the lab, Hendriksen felt confident in her skills. While there, she learned a lot, enjoyed rubbing elbows with graduate students from Northwestern University, and now may parlay her experience to the law side of the industry—protecting the intellectual property of a research lab.
"Lake Forest College isn't leaving to chance how our students do with internships," Hinkley said. "We make sure that students are well prepared, get access to great opportunities, and understand how those opportunities will launch them into great careers."
That effort mirrors what college students are looking for nationally. According to New America (a nonpartisan think-tank in the U.S.), students enroll in college for practical reasons: to improve employment opportunities (91 percent), to make more money (90 percent), and to get a good job (89 percent). Internships and research opportunities are the best way to tie together classroom learning with hands-on experience. 
Lake Forest College students are completing experiential learning opportunities in growing numbers: A remarkable 85 percent of the Class of 2015 reported completing at least one internship or career-related experience during their time at the College. Over half of those graduates chose to earn College credit, receiving additional guidance and mentoring from College faculty/staff during their internship. To meet the growing need for students to gain experience, the College is committed to provide new and innovative internship opportunities.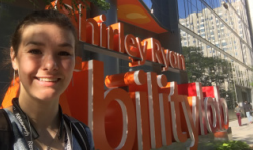 Johanna Hendriksen '19 at Shirley Ryan Abilitylab
The next level
This summer, the CAC took the internship experience to the next level by piloting the ACTIVATE: Summer Internship Program—a Chicago work and residential program that placed six participants, a mix of rising seniors and juniors who represented business, art, psychology, and science majors. The pilot program was open to students from all majors.
While students interned at different sites throughout the city, during their nonwork time they had access to activities designed specifically for ACTIVATE participants. Programming for the selectiveenrollment opportunity started in the spring when the students participated in a series of activities to help them hone their interview and networking skills. The Career Advancement Center collaborated with the Department of Residence Life to host a career conference at the Lake Forest College Loop residence, The Flats, which included a session with an improv group to help the students loosen up and understand that the best networking happens when you only have a loose script. They closed out the spring term by participating in a networking lunch with the Alumni Board.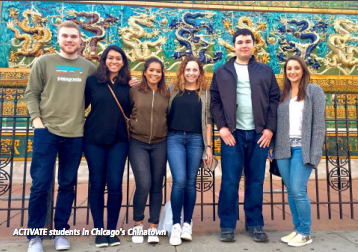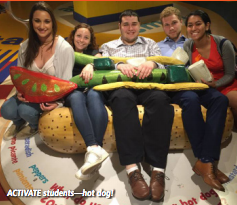 Sophia Lane '19, an art and business double major, was among the ACTIVATE pilot group. For her internship, Lane worked three days a week at Susanin's Auctioneers & Appraisers, a South Loop art auction house. On her off days, she also volunteered at the Art Institute of Chicago in the European Decorative Arts Department, which gave her the additional experience of working directly with the public.
At Susanin's, Lane made a point to "shadow" everybody. "I wanted to make sure I knew all the positions within the auction house," she said. One of her main duties was updating all the social media platforms for the auction house. Lane had the same responsibility during her spring 2017 for-credit internship at the Evanston Art Center—a contact she made during the CAC's hallmark fall Speed Networking event. "I met with the president and CEO of the Evanston Art Center during Speed Networking and we made a connection," Lane said. "I really wanted to work there, so I went to the CAC to get help with having it appealed to count for credit since I was a sophomore."
Her experience over the summer with ACTIVATE provided Lane with even better focus on her career options. During an ACTIVATE group visit to the Chicago History Museum —one of the program's regular explorations of the city— the students met Joshua Anderson '10 who works as a visitor services coordinator. "He combined his American history and studio art double major in his job," Lane said. "ACTIVATE helped me discover careers I want to consider and how to reach the right people. I've picked up a lot of information and contacts along the way."
Sophia Lane '19 spent part of her summer in the ACTIVATE pilot program learning the ins and outs of the art world at an art auction house in Chicago's South Loop. One of the bigger projects the art and business double major tackled in the internship portion of the program involved researching a porcelain bird sculpture collection to assess its current and potential value.
Photo by Eileen Ryan
Collaborative effort
In finding and creating research and internship opportunities, "alumni, trustees, and friends of the College have been extremely helpful to us," Hinkley said. "They help us open doors and provide funding to get great interns at sites that couldn't afford to get interns on their own."
Last spring, for example, the CAC received a $25,000 gift from an anonymous donor to fund two internships annually for five years at Waukegan to College, a nonprofit that helps students get on and stay on the path to college. "This gift allowed us to solidify an important relationship with a valuable internship provider," Hinkley said. "Student interns at Waukegan to College are simultaneously able to strengthen their personal preparation for the steps they'll take after graduation and to help tomorrow's college students. We are grateful for the opportunity to expand this partnership."
Friends of the College, like David C. Wiers, president and founder of Satori Energy, look specifically for Lake Forest College students to fill their internships. In the spring, Nipun Chauhan '18 worked for Satori providing analysts at the energy company with key data organized in a way that would be most useful to the team. Chauhan did so well in that role, Satori offered to broaden his experience over the summer as a full-time pricing analyst—a great opportunity for the finance major and entrepreneurship and innovation minor.
"We've had interns from Lake Forest College for the past five years," Wiers said. "We really believe in the liberal arts: problemsolving skills, critical analysis skills, and the reading and writing skills that students learn in a liberal arts curriculum make a big difference." Besides opening their doors to the College's interns with important career experiences, Satori has hired two Foresters after they graduated to join their growing team in the energy industry.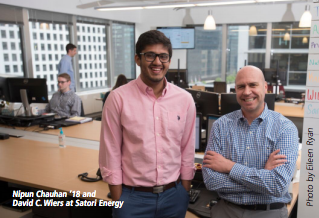 Funding for non-paid internships
Some internships are paid and some are not. The College, with help from external providers, offers funding to help students cover costs associated with unpaid or low-paid internships. Students who plan to complete an unpaid internship may qualify for up to $2,500 to help alleviate costs associated with their experience—like purchasing a train pass or proper business attire. This program began as part of the anonymous $2 million gift to boost career preparation and employer engagement to benefit Lake Forest College students and alumni—the largest donation in College history to help students achieve post-graduate success.
Good internships help students to…
• Explore career interests and options
• Develop and apply professional skills
• Apply learning from academic experience
• Expand understanding for trends and expectations in a given field through hands-on experience, research, and networking
• Advance their evolving career and life goals
–By Linda Blaser