<div style="background-image:url(/live/image/gid/32/width/1600/height/300/crop/1/41839_V14Cover_Lynch_Artwork.2.rev.1520229233.png)"/>
My Perfect Scientific Vacation
Conference Roundup
The Lawrence Convention Center, the location of the 95th Ecological Society of America (ESA) Annual Meeting, was a new, beautifully constructed building that seemed to stretch for miles. From the tilted windows, we could see the intersection of three rivers beneath bridges and houses sitting on top of an enormous incline. I looked around and noticed the happy, excited faces of students who were able to network with professors in similar research areas. I felt very lucky to be at the national conference that day, especially since I was sponsored by the Chicago Botanical Garden (CBG). My project with Dr. Louise Egerton-Warburton at CBG began as a mini-internship arranged by Dr. Westley as part of the BIOL 384 Plant Biology class. However, Dr. Egerton-Warburton saw how much I enjoyed doing research on mycorrhizal fungi in her soil ecology lab and asked me to present at both the Chicago Area Undergraduate Symposium at DePaul University and at ESA. I am extremely grateful to Dr. Egerton-Warburton who always answered my questions and helped me design my poster. Thus, what began as a three week long internship, extended to the next semester, with me going to CBG on a weekly basis.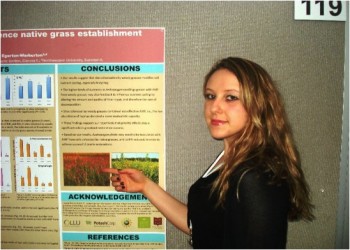 Lisa Pahomov '11 explains her poster about soil restoration of the keystone prairie species Andropogen gerardii, during the ESA meeting.
At the conference, Dr. Westley introduced me to Joel Brown, an internationally known ecologist from University of Illinois Chicago, who studies foraging behavior of mammals. He has also begun to study cancer and told me, "The human body becomes cancer's Planet Earth—the environment where the cell evolves, avoiding the hazards of the immune system and where it forages for nutrients." Talking to Dr. Brown about his field of work was very interesting and informative, especially since I enjoy learning about herbal medicine and would like to become an oncologist one day.
During the conference, we listened to a variety of talks including both poster and PowerPoint presentations. A few presentations that particularly stood out were those of Jennifer Ison and Charles Flower, an LFC alumnus. Both students were completing their PhD's at UIC. Jennifer worked on a long term prairie fragmentation study at the Chicago Botanical Garden. During her talk, she discussed the temporal and spatial genetic structure of prairie plants across a fragmented landscape with implications for restoration. Charles Flower's presentation once again went over my head; however, I did understand that his talk concerned the spread of invasive species, Emerald Ash Borer. Even though I did not personally know Charles, I was proud to see a Lake Forest College alumnus who was so passionate about his work. Dr. Westley said that, "The best part about the meeting was seeing current and former students present their work. At least five Lake Forest College students and alumni had their names on papers and posters that were presented."
Undergraduate students would find the conference beneficial for improving both formal and informal modes of communication. At the conference, students apply what they learn in the classroom to their field of study and build essential connections with top leaders in their field of interest. From a teaching perspective, Dr. Westley noted that at the conference she obtained new ideas that could be applied to her classroom in terms of new articles and interesting research that she could share with her students. I thought the conference would be very crowded; however, because the sessions were spread out from Monday to Friday, and I could choose the talks I wanted to hear on each day, the presentation rooms were not overcrowded.
On the day of my presentation, I was both nervous and excited to share my findings on the influence of soil legacies on native grass establishment in a prairie restoration with people on a one-to-one basis. I think that going into the conference I was a bit scared because it was my first national conference and I knew there would be thousands of people there. The personal approach made me feel more relaxed and I felt like I was talking with friends. I was pleased to find that people would share their own interests with me or explain why they were curious about my project. I was asked some questions that I did not know, however that made me think harder about my results and new ways that I could potentially interpret my findings. I was surprised by the number of people that came up to my poster and, by the end of the two hours, my mouth felt completely parched from all of the talking. I was amazed to see a woman come up to me who I actually gave the same presentation to during CAURS in April. As a student pursuing a career in the medical field, I think this meeting opened my eyes to just how interesting other fields of scientific research can be, and I hope this will make me a well-rounded doctor one day.
Aside from the fun that I had presenting and listening to other student's presentations, Elina Dilmukhametova '08, a recent LFC graduate who was also at ESA, and I were able to visit a number of places in Pittsburgh. For example, we went to the National Aviary, which had bald eagles, penguins, vultures, and many other kinds of birds. We even fed grapes to exotic blue pigeons, although they kept running away from me. We also visited the Carnegie Museum of Science which was like a child's fantasy world spaced throughout four floors. We were transformed into little kids, running around, playing basketball against robots, and watching miniature trolleys and trains passing through a model of Pittsburgh. We observed unique fish with a magnifying glass and even saw a surfing movie on an IMAX screen. Outside of the museum, we were given a tour of an actual Cold War submarine. I felt intensely claustrophobic thinking about the crammed conditions the soldiers had to endure. I enjoyed having dinner with Dr. Egerton-Warburton, Dr. Westley, Dr. Brown, Dr. Smallwood, and other faculty who I met at the meeting. One of the nights we went to a Japanese restaurant where the chef cooked in front of us, and the following night we shared tapas and drinks at a Spanish restaurant called Seviche. The conference made me feel at ease learning new ideas, particularly because it was an informal setting where we could discuss science without being graded on it.
I honestly felt that the ESA meeting was the perfect vacation. I was able to present my research, meet new people that were exciting and full of ideas, spend time with professors in an informal setting, and even explore Pittsburgh!