<div style="background-image:url(/live/image/gid/95/width/1600/height/300/crop/1/42360_HOMECOMING_darker.rev.1523377981.jpg)"/>
Communications and Marketing
Communication professor publishes book on history of media outsourcing
Camille Johnson-Yale, assistant professor in the Department of Communication, has just released a book, titled A History of Hollywood's Outsourcing Debate: Runaway Production.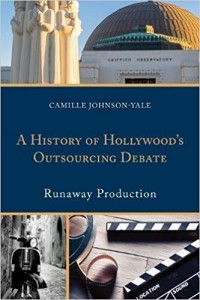 Through extensive archival research, Johnson-Yale chronicles Hollywood's postwar push for investment in European production markets as a means for supporting the economy of America's wartime allies while also opening industry access to lucrative trade relationships, exotic locations, and inexpensive skilled labor. For Hollywood's studio production labor, however, the story of runaway production documents the gradual loss of power over the means of television and motion picture production. 
The publisher is Lexington Books, a division of Rowman & Littlefield.