<div style="background-image:url(/live/image/gid/95/width/1600/height/300/crop/1/42360_HOMECOMING_darker.rev.1523377981.jpg)"/>
Communications and Marketing
Chemistry majors: A growing force on campus
Chemistry majors are on the rise at Lake Forest College. Just look at the latest crop of grads: 15 majors in the Class of 2017.
"We normally graduate an average of 10 chemistry majors each year," said Professor and Chair of Chemistry Jason Cody. "Next year we'll graduate another group of 15 seniors."
Cody credits a "new sense of energy and enthusiasm in the department" with the surge in majors, partly due to new faculty members Assistant Professor of Chemistry Paul Gladen and Assistant Professor of Chemistry Nilam Shah. In addition to graduating another group of 15 seniors next year, the department will welcome Erica Schultz to the faculty team.
Consistently putting the development of students first is the watchword in chemistry.
"Beginning with the Wednesday chemistry study sessions during the first semester of Chemistry I, we have many support opportunities to help our students learn chemistry, and, in the process, our upper-level students are learning how to help us teach chemistry," Cody said. Chemistry faculty start from the assumption that students who study hard and get help when they need it can succeed at chemistry.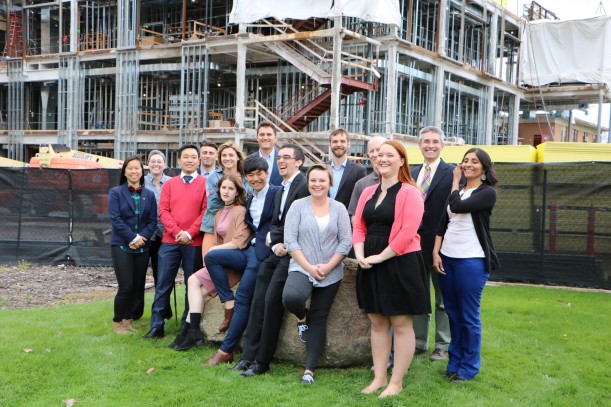 The Class of 2017 chemistry majors and faculty gathered for a photo at the rock uncovered in 1961 when the Johnson Science Center was built and in front of the Lillard Science Center, which is currently under construction.