<div style="background-image:url(/live/image/gid/32/width/1600/height/300/crop/1/41839_V14Cover_Lynch_Artwork.2.rev.1520229233.png)"/>
An Intellectual Insight into the Problems of the XXI Century
Campus Outreach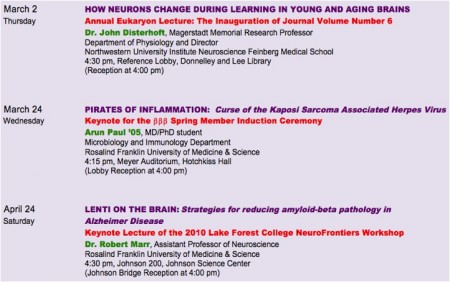 Seminar Series poster for Spring of 2010.
Living in the twenty-first century is both extremely satisfactory and incredibly frustrating. From a scientific point of view, it is exciting to be living in this era because all of the advancements, both technological and intellectual, that have provided the research community with the potential to make groundbreaking changes. On the other hand, it is exasperating because, despite humanity's progress there are still too many unsolvable critical issues in a variety of disciplines that need to be addressed. Although it may sound like a perfect combination of sweet and sour circumstances, the truth of the matter is that people usually choose to see through the prism of only one of those options. Either they decide to take on a challenge, or they choose to give up right from the start.
As young undergraduates at Lake Forest College, we are taught to question and never let our curiosity be hindered by the fear of not acquiring an immediate and obvious answer. We are encouraged to look outside the box for possible solutions, and discover the unknown. But I must admit, and I think that you will agree with me, when I say that we all are still amateurs in following such an approach. Consequently, the Lambda Phi Chapter of the Beta Beta Beta, the biological honor society at Lake Forest College, organizes a seminar series every year to give us a chance to learn from some of the key players who never stopped questioning, and have shaped their work ethics according to that approach.
During the Spring semester of 2010 two seminars have particularly struck my interest. The first one, titled "Lenti On The Brain: Strategies For Reducing Amyloid-Beta Pathology In Alzheimer Disease". It was presented by Dr.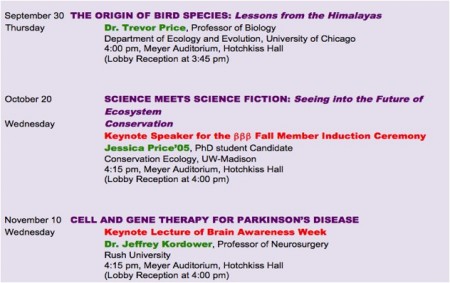 Seminar Series poster for Fall of 2010.
Robert Marr, an Assistant Professor in the Department of Neuroscience at Rosalind Franklin University of Medicine and Science, who gave us a glimpse at various strategies for reducing amyloid-beta pathology in Alzheimer Disease (AD) that his lab has been working on. AD is associated with the presence of plaques and tangles in the patient's brain, as well accumulation of amyloid precursor protein (APP), thus in the future his strategies could prove to be ground breaking. Specifically, he focused on the use of Neprilysin proteins, which are linked to the degeneration of amyloid-beta, and showed that Neprilysin is necessary for proper amyloid-beta functioning. They also tested the function of ApoE4 and ApoE2 genes. It turned out that while ApoE4 increases the risk of developing AD and is linked to a more robust neuropathology, ApoE2 reduced such neuropathology. Although his seminar was quite technical and possibly difficult to follow for a non-science listener, Dr. Marr emphasized the importance of further research on AD, and the need to finally win the battle with such a debilitating and widespread disease.
The second seminar, presented by LFC's alumni Arun Paul, was  particularly interesting to me due to its catchy title, "Pirates of Inflammation: Curse of the Kaposi's Sarcome Associated Herpes Virus (KSHV)". In this seminar Arun started off with giving us some basic facts about the process of inflammation as well as some of the players that are involved in it, such as COX-2, which also played a role in causing cancer. KSHV occurs in many different types, which ultimately could be classified as the: alpha, beta or gamma herpes virus. His research team's gap in knowledge focused on the issue of the virus utilizing the host mechanisms that regulate latency gene expression and the process by which this happens.  To bridge the gap, they came up with various questions and conducted appropriate tests to arrive at the answers. Arun and his colleagues found that the levels in the
cancer/lymphoma cells have a higher level of COX-2 proteins. Additionally, once the COX-2 inhibitor nimesulide was given to rats, it down regulated the LANA-1 overexpression, activated the p53 pathway, induced the cell cycle arrest, affected the cell cycle proteins, and induced the cell death in BCBL-1 cells. Thus, in general, what they found out was that medication that decreases the levels of COX-2 that is given to patients with herpes, could potentially serve as treatment for cancer patients. Arun's seminar was both extremely interesting and insightful because it showed us how different medications can possibly have beneficial effects when used in different ways.
During the Fall semester of 2010 two other seminars became quite memorable. The first one was given by Jessica Price, an alumnus of the college, and the talk was titled, "Science meets Science Fiction: Seeing into the Future of the Ecosystem Conservation". As the title indicates, she spoke about her team's modern efforts to improve ecosystem conservation through a new approach. She focused on the distributed conservation strategies that focused on spreading limited protection and efforts over larger areas, and accommodating a broader range of ownership and management techniques. Some of the presented benefits of her new technique for ecosystem conservation included cooperation with local specialists and diverse experts, compensation for irreducible uncertainty and balance of multiple perspectives and goals. Thus, Jessica's talk reminded us of the importance of our surrounding ecosystem and made us realize of our negligence towards it.
The second seminar and one of the most revolutionary ones that I have yet heard, was a talk given by Dr. Jeffrey Kordower titled "Cell and Gene Therapy for Parkinson's Disease(PD)". He compared two modern approaches to this debilitating disease: cell replacement theory and gene therapy. Although, both of them are rationally acceptable, cell replacement theory does not result in any dramatically improved outcomes that any of the current treatments can provide, thus it is not as revolutionary. Gene therapy, on the other hand, has the potential to be a possible cure for Parkinsonian patients. By using monkeys as their subjects, both US and Switzerland researchers were able to reverse the brain damage caused by PD, by injecting a special virus called lenti-GDNF, which boosts nutrients in their brain and stimulates dopamine production. Based on the two clinical trials conducted on humans, there was a visible improvement. Next stop for the researchers will be to increase injection levels of lenti-GDNF in those patients and focus on conducting more trials. If this treatment proves to long-term effective in humans, then it would mean that the patients' struggles with the second most common neurodegenerative disease, PD, could be eased and many, many lives could be saved. Either way, it seems that thanks to the hard work of various researchers, we are closer to solving the mysteries of neurological diseases.   
By listening to any of these seminars, even if some may not have understood every single detail of the talk, students had an opportunity to satisfy their eagerness, and to learn and absorb knowledge from others; which is what every individual should strive toward to achieve personal satisfaction. Yet, let me remind you, that such curiosity is only good at the initial stages of our development. These researchers were not just curious and enthusiastic about learning more. They were passionate about taking action into their own hands and making a difference. As German author and a polymath once said, "Knowing is not enough; we must apply. Willing is not enough; we must do", and I believe that this should be a motto of every student at Lake Forest College, either science oriented or not. Don't just know 'stuff'-apply' it and actually do something about it!