<div style="background-image:url(/live/image/gid/95/width/1600/height/300/crop/1/42360_HOMECOMING_darker.rev.1523377981.jpg)"/>
Communications and Marketing
Chocolate, anyone?
It looks almost good enough to eat, like an exquisite confectionary at a high-end chocolatier. But this delectable chocolate lily is one of Glenn Adelson's latest finds on his year-long search for wildflowers.
On the road in the American Southwest, Adelson spotted this distinctive cocoa-colored flower on the Trans Preserve Trail in the Santa Rosa Plateau Ecological Reserve in Temecula, California.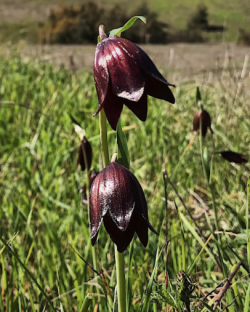 "Fritillaria biflora, Liliaceae, Chocolate Lily,  33°30'36"N, 117°16'54"W. A good indicator of the chaparral ecosystem type of Southern California and Northern Baja, the chocolate coloration of these flowers is uncommon in nature," Adelson posted on his Instagram on March 9.
The associate professor and chair of environmental studies is on sabbatical traversing the globe in search of native wildflowers to photograph, identify, and post on Instagram. His goal is to transform the way he—and others—teach botany.
Adelson began his journey in January in Africa hunting for specimens for eight weeks. He returned to Chicago in late February to pack his bags and his car for the second leg of his trip.
"I will be heading down to the deserts of the American Southwest in a couple days," he posted before departing. "They're predicting a phenomenal year for desert wildflowers."
While driving though the American Southwest, Adelson so far has posted shots from: 
Texas (Big Bend National Park, Enchanted Rock State Park, and at the US Highway 281 verge south of George West) 
Arizona (Saguaro National Park)
California (Anza-Borrego Desert State Park and Santa Rosa Plateau Ecological Reserve)
On March 8, while in Desert Gardens in California, Adelson posted a shot of Desert Five-spot "considered to be the most beautiful of desert wildflowers" that caught the attention of the media.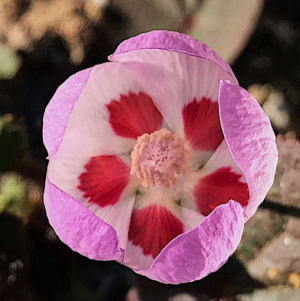 "This photo was published by CBS news in their online article 'California desert experiences a rare super bloom,'" Adelson posted.
To see where Adelson is now and what he's shooting, follow him on Instagram @thoughtstoodeepfortears.