<div style="background-image:url(/live/image/gid/95/width/1600/height/300/crop/1/42360_HOMECOMING_darker.rev.1523377981.jpg)"/>
Communications and Marketing
Alumnus releases soundtrack to major motion picture
Zak Engel '10 released the soundtrack to his second major motion picture, The Hudson Tribes, on January 6.
The film is a socio-political crime thriller inspired by true events that spoke to Engel. Amidst racial tensions, a Hasidic young man falls in love with a Hispanic woman who teaches at the school his leaders are shutting down.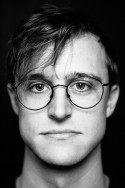 Zak Engel '10
Director John Lopez brought Engel onboard to score the film early in the process. It is the second film the Forester music major worked on with LPZ Media.
"John and I have a very easy dialogue and creative rhythm, much of which is due to his willingness to let me be free and explore ideas that interest me musically. That's something I never take for granted," Engel said.
Weaving a thread of tribalism throughout the score, Engel "explored what to me feels like a loose and modern interpretation of tribal music," he said. "There are a lot of processed drum beats and synthetic pulses that get punctuated with drones and melodic motifs." 
The film's heavy emphasis on intimate relationships allowed Engel to explore softer versions of themes with more delicate instrumentation by "creating the right palate instrumentally and thematically that could translate from high energy and high action to a quiet and tender moment was absolutely a challenge," he said.
The film score to The Hudson Tribes is available here.