<div style="background-image:url(/live/image/gid/26/width/1600/height/300/crop/1/29897_economics2.rev.1450298007.png)"/>
<div style="background-image:url(/live/image/gid/26/width/1600/height/300/crop/1/29986_finance_1.rev.1450464569.png)"/>
<div style="background-image:url(/live/image/gid/26/width/1600/height/300/crop/1/29985_business.rev.1450464558.png)"/>
<div style="background-image:url(/live/image/gid/26/width/1600/height/300/crop/1/29987_finance_3.rev.1450464570.png)"/>
Economics, Business, and Finance
Limitless careers in insurance
Students learned about the exciting prospects of an insurance career at a panel discussion co-hosted by the Jacobson Group on October 25.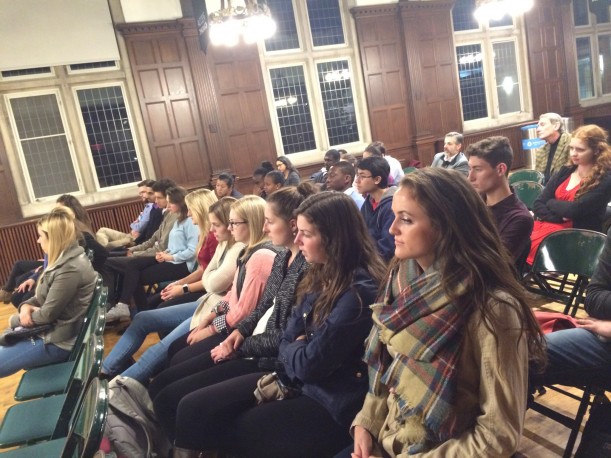 The insurance industry nationally is looking for top millennials to fill emerging in-demand positions.
Responding to this growing need, the College offers classes focused on insurance and co-hosted a panel discussion with The Jacobson Group, a leading recruitment firm in the industry.  
"The insurance industry provides a variety of rewarding and advancing careers, however this industry ranks toward the bottom of industries young professionals seek when looking for employment," said Abbe Sodikoff of Jacobson. "As an industry that is faced with huge talent demands, we are focused on changing the image."
As one of the founding members of the Insurance Careers Trifecta, Jacobson is part of a grass roots collaboration to spread the message that the industry offers careers which are stable, rewarding, and limitless.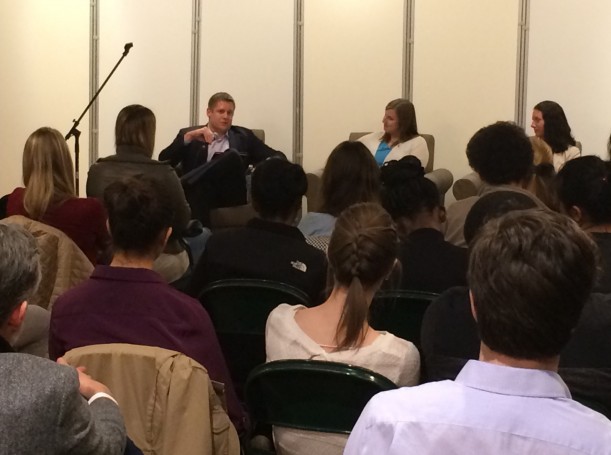 The panelists were:
Chad Record, Assistant Vice President at The Jacobson Group
In this role, Chad provides insurance organizations access to professionals with the specific product line and functional expertise necessary to successfully manage workload fluctuations. Chad joined Jacobson in 2010 as a Recruiter. He quickly assumed a sales position with the temporary staffing practice. During his tenure at Jacobson, Chad has been promoted to Regional Manager, National Territory Manager, and subsequently to his current role as Assistant Vice President and Sales Lead. Prior to joining Jacobson, Chad held the role of Recruiter with Combined Insurance. He received a bachelor's degree from University of Illinois at Chicago.
Taylor Schmidt, Actuarial Analyst in Milliman's Chicago-Milwaukee Health Practice
Taylor Schmidt has been with Milliman since her graduation from the University of Michigan - Ann Arbor in 2014 where she earned a BS in Mathematics with a minor in Spanish Language, Literature, and Culture. She has volunteered for the past 6 years as part of Dance Marathon programs that raise money for children's hospitals and enjoys skiing and travelling during her time off.
Kelsie Miller '15, Account Executive at Travelers Insurance Company
Travelers Insurance Companies is the second largest writer of property and casualty insurance in the U.S.; with $23.9 billion of written premium in 2014. Inland marine is first party coverage for construction, motor truck cargo, green energy, and fine arts and jewelry. As an underwriter, Kelsie asseses risk and price insurance policies accordingly with appropriate deductibles and exclusions.