<div style="background-image:url(/live/image/gid/95/width/1600/height/300/crop/1/42360_HOMECOMING_darker.rev.1523377981.jpg)"/>
Communications and Marketing
Exploring Walt Disney's Chicago roots
Assistant Professor of Music Scott Edgar took his Disney, Music, and Culture class to view the Chicago birthplace of Walt Disney.
This historic home, where Disney was born in an upstairs bedroom, is currently undergoing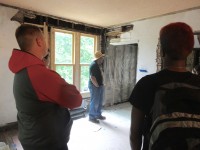 renovation to return it to its original condition. The Lake Forest class received a private tour of the work-in-progress. The house, built by Disney's father, and museum are expected to be open to the public in December.
"It was invaluable to be able to see where the legend was born," Edgar said. "Most people don't know he was born in Chicago. It's an amazing connection and we had to take advantage of this resource."
Lake Forest faculty travel to Chicago with their classes more than 200 times every academic year.