<div style="background-image:url(/live/image/gid/6/width/1600/height/300/crop/1/29871_papers.rev.1452013163.png)"/>
<div style="background-image:url(/live/image/gid/6/width/1600/height/300/crop/1/30027_self_designed_major.rev.1451946126.png)"/>
<div style="background-image:url(/live/image/gid/6/width/1600/height/300/crop/1/30025_education.rev.1451945980.png)"/>
<div style="background-image:url(/live/image/gid/6/width/1600/height/300/crop/1/30024_area_studies.rev.1451945934.png)"/>
<div style="background-image:url(/live/image/gid/6/width/1600/height/300/crop/1/29873_header-aerial.rev.1450206652.jpg)"/>
<div style="background-image:url(/live/image/gid/6/width/1600/height/300/crop/1/30028_english-_literature.rev.1452013046.png)"/>
<div style="background-image:url(/live/image/gid/6/width/1600/height/300/crop/1/30485_library.rev.1454952369.png)"/>
Access to award-winning American poet
Members of United Black Association (UBA) mingle with Artist in Residence, Reginald Dwayne Betts, at his poetry reading held on campus.
Betts was invited to campus as the College's Artist in Residence. At this moment in our nation, the issues that Betts addresses should be important to all. While Betts visited many English classes, he had a great deal to say that was relevant to classes in social justice, pre-law, history, and political science.
"Stories explain life to us and the storyteller/poet illumines our spirits," said Associate Professor of English Judy Dozier. "Betts inspired all who heard him in classes and at this public reading."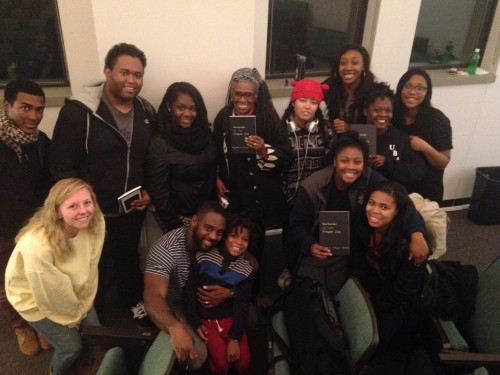 Photo by Victoria Wynter '17.
Betts, a resident of Maryland, teacher, poet, and student at Yale Law School, is a writer who probes the national conscience around issues of race and justice and the "dismantling of black men's lives."
His latest collection of poetry, Bastards of the Reagan Era, was published in October 2015 by Four Way Books.
Betts is a recipient of fellowships from Soros Justice Foundation, the Radcliffe Institute of Advanced Studies, and the Bread Loaf Writing Conference. In 2012, President Barack Obama appointed Betts to the Coordinating Council on Juvenile Justice and Delinquency Prevention, where he continues to serve as a practitioner member. 
He is the author of two additional books, the NAACP Image Award winning memoir, A Question of Freedom: A Memoir of Learning, Survival, and Coming of Age in Prison and the collection of poetry, Shahid Reads His Own Palm. He received a B.A. from the University of Maryland, and an M.F.A. from Warren Wilson College's M.F.A. Program for Writers.