<div style="background-image:url(/live/image/gid/95/width/1600/height/300/crop/1/42360_HOMECOMING_darker.rev.1523377981.jpg)"/>
Communications and Marketing
Ask a professional
Students got a leg up on interviewing and job search for the financial analyst industry when they met with professional investment advisors in Chicago.
Five members of the newly formed Women in Biz organization participated in a roundtable at Cardinal Investment Advisors, picking up all-important career advice.
During the sit-down with the pros, the students discussed first steps they should take after leaving Lake Forest, what to look for in their first job, big firms versus small firms, the merits of getting an MBA or completing the Chartered Financial Analyst® (CFA) credential first, and insight on a financial analyst's typical day.
Interviewing dos and don'ts was one of the hottest topics of day.
"Your resume is just a piece of paper that gets the conversation started," Charles Wong, a Cardinal analyst, told the group.
Danielle Natonson, CFA, managing director and consultant, and Stephanie Hebron, CPA and managing director, recapped their careers and decisions they made along the way.
"My biggest takeaway was hearing their background and stories on how they made it to where they are today," said Ellie Shuda '16, who is double-majoring in economics and fashion history as an independent scholar (now called a self-designed major). "Both women took very different paths, but reminded me that success does not happen overnight."
Natonson and Associate Professor of Economics and Chair of the Gender Sexuality and Women's Studies Program Amanda J. Felkey organized the trip downtown after meeting at a Women in Biz networking business panel held on campus earlier in the year.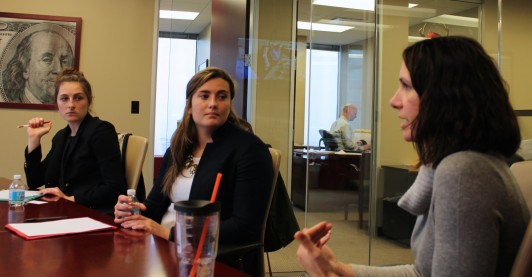 Casey Hartfiel '17 (left) and Hailey Hart '17 listen to Danielle Natonson's career advice.