<div style="background-image:url(/live/image/gid/95/width/1600/height/300/crop/1/42360_HOMECOMING_darker.rev.1523377981.jpg)"/>
Communications and Marketing
Mixing it up
In The Loop students mingled with successful alumni professionals at the second Spring 2015 All-Access Mixer on March 19.
Golin Media Manager Alexandra Demers '08 hosted the networking event at the public relations firm's offices. Golin is located in Chicago's famed John Hancock Center.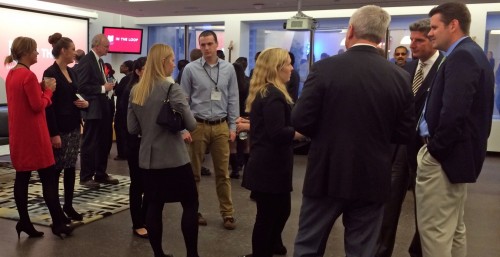 In The Loop All-Access Mixers are intended to help students learn how to translate their liberal arts experience to the real world through networking events with alumni.
After mingling with alumni professionals, In The Loop students got a chance to view Chicago from a whole new angle at Tilt, the jaw-dropping 94th floor Hancock observatory that leans over The Magnificent Mile. 
The next All-Access Mixer is scheduled for April 16 at Czarnowski Display Service Inc., a full-service exhibit marketing provider in Chicago. College Trustee Mark Nagle will host the event. 
The networking events are a collaboration among the Career Advancement Center, the Office of Development and Alumni Relations, and the Center for Chicago Programs.
Contact Assistant Director of Alumni and Community Engagement Chris Way if you'd like to attend the April Mixer.