<div style="background-image:url(/live/image/gid/95/width/1600/height/300/crop/1/42360_HOMECOMING_darker.rev.1523377981.jpg)"/>
Communications and Marketing
Soup and Stories
Jyothis James '16 packed the house during his Soup and Stories lunchtime talk on campus.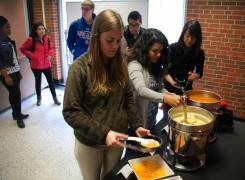 Students, faculty, and staff dished up bowls of minestrone and broccoli cheddar soup, settling together at long tables, and on couches and side chairs.
During the noontime event in the Pierson Rooms, James shared his experiences growing up in the Republic of India and Kingdom of Saudi Arabia, and eventually immigrating to the United States with his family.
As his guests lunched, James explained the ancient history of his homeland, his cultural and religious heritage, and his family's eventual journey to the United States.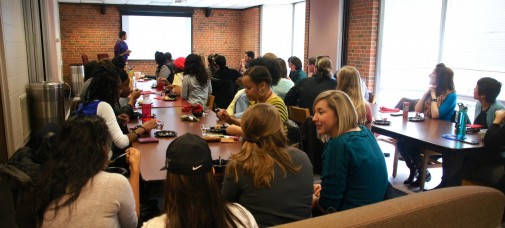 James showed a number of slides to help the group visualize his ancient family tree, and maps and photographs of the countries that he has called home. James even showed the group a St. Thomas Christian cross, and explained its meaning and symbolism as part of his discussion about the intersection of his identities.
James used the image of Russian nesting dolls to illustrate the different aspects of his cultural heritage and life experiences. 
Soup and Stories is a one-hour workshop series dedicated to highlighting the personal, culturally-related experience of on-campus presenters over a soup lunch. The event is coordinated by the Office of Intercultural Relations.