<div style="background-image:url(/live/image/gid/95/width/1600/height/300/crop/1/42360_HOMECOMING_darker.rev.1523377981.jpg)"/>
Communications and Marketing
A team player
She's played sports her whole life, and now Kyra Vidas '18 will get a behind-the-scenes look at a professional team as a summer intern for the Chicago Sky.
Vidas will work daily alongside the WNBA team's strength-and-conditioning coach during practices and all games at the Allstate Arena. She'll be easy to spot during televised home games, with a seat on the bench directly behind the professional women's basketball team.
"This is a stepping stone to the next level," the communication and business double-major said. "This experience will, hopefully, help me get to my main goal of being a broadcaster someday."
The first-year student is counting herself lucky to have landed such a prestigious not-for-credit internship so early in her college career—and will make the most of her experience.
"I'm excited that they wanted me," Vidas said. 
Her daily duties will include "doing whatever the coach needs," she said. On game days, one of her main responsibilities will be to set up the locker rooms for both the Sky and the away teams. She'll even escort the visiting teams to their locker room, make sure the players and coaches have everything they need, and give them a tour of the Allstate Arena.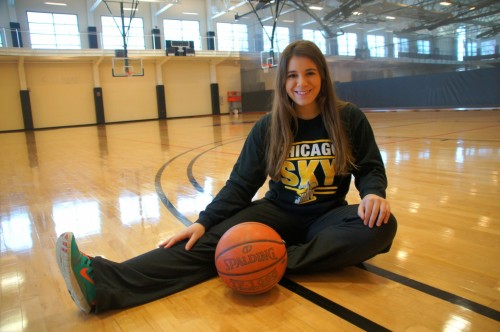 As a highlight of the summer, Vidas will travel with the team to Indianapolis when the Sky faces the Indiana Fever.
An athlete herself—she plays handball and rugby—Vidas already has her hopes set on a job after graduation.
"I would do news anchoring, but sports is really where my heart is," she said.
Vidas turned to the College's Career Advancement Center to prepare the winning resume and cover letter that helped her land her first internship.