<div style="background-image:url(/live/image/gid/95/width/1600/height/300/crop/1/42360_HOMECOMING_darker.rev.1523377981.jpg)"/>
Communications and Marketing
Students design headline-grabbing book
Two Lake Forest College students designed a book— featuring photographs by world-class Cuban artists—that is drawing international attention. 
Published this spring, "The Light in Cuban Eyes: Lake Forest College's Madeleine P. Plonsker Collection of Contemporary Cuban Photography" is the first book by a North American to receive full support and permission for distribution in Cuba by the Cuban Ministry of Culture. The book was published by Lake Forest College Press.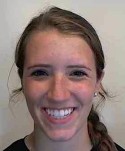 Rachel Tenuta '17Rachel Tenuta '17 and Kelley Nugent '16 worked on the project in the fall semester of 2014 as part of the new Print and Digital Publishing minor, an undergraduate book-design practicum unique to the College.
Tenuta and Nugent

Kelley Nugent '16 worked directly with more than 170 photographs by 50 world-class Cuban artists collected by Plonsker. Until now, many of these Cuban artists were known only to a select population of collectors fortunate to have traveled to the tightly restricted country. They were among the first people outside Cuba to view some of these photographs.
The students catalogued the collection and designed the placement of photographs with the artists' written reflections in both English and Spanish; they used intentional white space to create a visually stunning book, scaled for an international audience.
"Two students—moving through our Print and Digital Publishing program—had a chance to design this book; they have a valuable resumé item and they get to show their design skills to the wider world," Professor of English and Director of Lake Forest College Press Davis Schneiderman said. "It really was the design ideas of these students that allowed this book to come alive. Book design is like designing a gallery to display art, and here they have built a space of great imagination."
Tenuta, an English literature major and Print and Digital Publishing minor, said she and Nugent were allowed "a lot of creative freedom" working on this project.
"My career aspirations involve publishing and book design, so this opportunity allowed me to see what my ideal life after college would be like," she said. Tenuta said she feels "fortunate" to have been part of creating this historically important book.
Nugent currently is studying abroad in Europe, during the spring 2015 semester.
"The Light in Cuban Eyes" will be launched with a photography exhibition at the Robert Mann Gallery in New York City from March 26 through May 23.
The book will be featured in Cuba in May 2015, during the XII Bienal de La Habana.