<div style="background-image:url(/live/image/gid/95/width/1600/height/300/crop/1/42360_HOMECOMING_darker.rev.1523377981.jpg)"/>
Communications and Marketing
Get juiced
Lake Forest students traveled to Chicago for a Saturday afternoon of juice-tasting, healthy foods—and exploring the city.
The group caught the 10:24 a.m. inbound train in Lake Forest and met up downtown with Simran Kaur '16, an In The Loop student, at Loop Juice. 
At the juice bar, students tried a special tasting of extracted fresh vegetables and fruits blended with seeds, roots, proteins, algaes, and oils, in made-to-order raw beverages.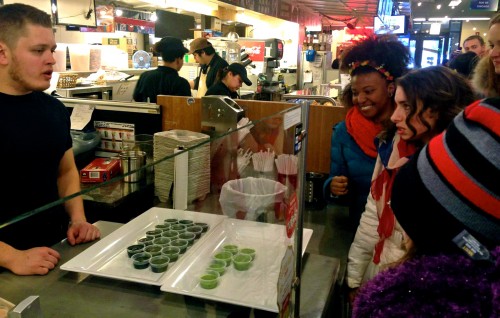 After the tasting, Student Ambassador Nikoletta Raso '17 led the entourage to Chicago's Wicker Park neighborhood, where they enjoyed lunch at Native Foods Cafe, a vegan, California-style restaurant.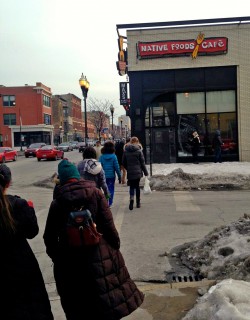 A train ride back to campus rounded out the day. 
Also participating in the Center for Chicago Programs outing were Kira Cipkin '15, Qiaira Riley '18, Alexandria Lundy '18, Kojo Osafo '17, Kailey Gonzalez '18, Meghan Bellamy '18, and Katrina Kephart '18.