<div style="background-image:url(/live/image/gid/18/width/1600/height/300/crop/1/30156___dsc0029.rev.1453220321.jpg)"/>
<div style="background-image:url(/live/image/gid/18/width/1600/height/300/crop/1/45672_BIOLOGY_LAB_2_HEADER.rev.1531492424.png)"/>
Eukaryon celebrates its eleventh year by featuring Professor Doug Light
Eukaryon celebrated the inauguration of their eleventh volume on Tuesday, March 3 in Calvin Durand Lounge. The journal's 2014–2015 theme is "Investing in our Future."
The Department of Biology at Lake Forest College is pleased to announce the publication of the eleventh edition of the journal Eukaryon. The 2015 online edition was unveiled on the College's website on Tuesday, March 3, 2015. A campus reception celebrated the collaborative work of the students and faculty. Lake Forest College Department of Biology's Dr. Doug Light presented a public lecture "Regulating Volume: a fundamental property of cells,", following a campus-wide reception.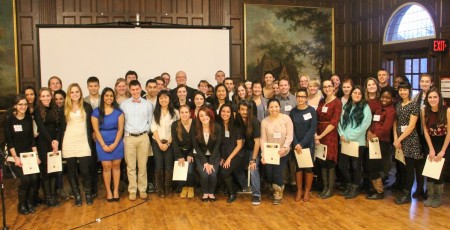 Michael Peters '17
11th Inauguration of Eukaryon
Students celebrated the eleventh inauguration of their peer-review scientific journal,
Eukaryon
, on March 3, 2015.
About Eukaryon
Eukaryon is an award-winning undergraduate research journal that publishes the very best of life science scholarship conducted by Lake Forest College students. The goal of the journal is to celebrate and highlight the academic accomplishments achieved by these students within the research-rich classrooms and labs, and within the life science-related activities of Lake Forest College science majors on and off campus. The word "eukaryon" and the journal logo reflect the diversity of organisms that the Biology Department faculty is involved with in their research.
The students and faculty of the Department of Biology founded this peer-reviewed online journal in 2004, first successfully conceived as an idea in an National Science Foundation grant proposal, and published the inaugural issue in January 2005. In 2007, the journal also began publishing a limited print version. An editorial board comprised of biology students is responsible for peer reviewing, copy editing, and publishing the journal annually. The board also authors all editorial policies of the journal with the goal of making Eukaryon a truly student-produced publication that maintains high scientific journalistic standards.
The 2015 issue maintains the journal's high selectivity in peer review. The journal has also continued to improve on several other fronts: increasing the academic diversity of the journal to include submissions from new departments as well as enhance its digital media quality for its future. 
As part of reflecting on eleven years of innovative growth and achievement, the theme of this year's journal is, "Investing in our future". Editor-in-chief Jeremy Boeing '15 said "With 10 years of rich history behind us, Eukaryon begins its march into a new decade. Though we stand on the brink of the unknown, we couldn't be more excited. Lake Forest College has announced its plans for the expansion of the Johnson Science Center and it has everyone at Eukaryon enthused. The expansion of Johnson will bring with it new technology, opportunity, and innovation. It is this forward thinking that helped inspire the journal to further invest in its future. This year I'm happy to announce that we have expanded our article selection across even more disciplines to provide a truly interdisciplinary publication. Along with that, Eukaryon has moved into the future by publishing its first all online edition. The internet has connected millions around the world and made seemingly impossible collaborative research a reality. We are proud to make this change and move forward into what is sure to be another exciting decade."  
"In its second decade, Eukaryon continues to innovate, grow and mature as a unique and pioneering student-run publication within the undergraduate science education community," said current advisor and Professor of Biology Shubhik DebBurman. "Thirteen years since it was conceived as a possibility, I have seen it become an agent of intellectual enterprise for our students and faculty, be recognized as a driver of student scholarship activity, and take its place as asymbol of academic pride in our community".
"At its heart, Eukaryon's uniqueness lies in the intellectual autonomy with which its 100 percent undergraduate student editorial board governs all aspects of its publication. Nationally, it is a model for all other institutions to emulate and many are trying.  Eukaryon is truly one of our college's scholarly gems."
About Inauguration speaker Dr. Doug Light:
Dr. Douglas B Light is the Laurence R. Lee Family Professor of Biology at Lake Forest College. Dr. Light received a BA in Biology from Colby College, MS in Zoology and PhD in Physiology from the University of Minnesota.
Dr. Light has received several National Science Foundation grants for his well-regarded research in the areas of animal and human physiology, cell and membrane physiology, and neurophysiology. Through grants and publications, he has trained scores of Lake Forest College undergraduates, many of who have pursued diverse scientific careers. In 2009 he received the Trustee Award for Teaching Excellence and Campus Leadership, which is annually award to faculty who demonstrate outstanding teaching, and who inspire other faculty to do so as well.
Disclaimer
Eukaryon is published by students at Lake Forest College, who are solely responsible for its content. The views expressed in Eukaryon do not necessarily reflect those of the College.
Articles published within Eukaryon should not be cited in bibliographies. Material contained herein should be treated as personal communication and should be cited as such only with the consent of the author.