<div style="background-image:url(/live/image/gid/30/width/1600/height/300/crop/1/45673_ENVIRONMENTAL_STUDIES_HEADER.rev.1531493113.png)"/>
<div style="background-image:url(/live/image/gid/30/width/1600/height/300/crop/1/29902_environmental_studies_group_header.rev.1450298247.png)"/>
Campus Garden Ready to Grow
This Spring marks the beginning of the 4th growing season at the Glen Rowan Community Garden. Student Interns have been hired, seeds started, and clean-up has commenced – all we are waiting for now is the ground to warm up.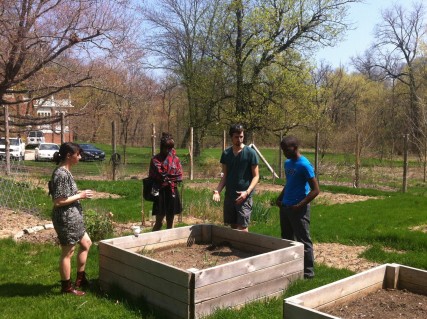 Past interns Sydney Fletcher '14 and Ryan Vlaar 14 lead the new interns through the garden. 
The campus garden, located in the yard behind the Glen Rowan House, was started by students in the Spring of 2010. During this time, the garden has grown a variety of fruits and vegetables, from tomatoes, peppers and lettuce to corn, strawberries and beans – all grown using organic methods. It is now almost time for the fourth growing season to start.
The student interns that will manage the garden this summer have been hired and given a tour of their new, outdoor "office." Both are sophomore students and bring diverse experiences to the position. Asha Walker is an English Literature major from the city of Chicago, and is interested in the health aspects of food production. Phumelela Mdluli is a double major in Computer Science and Economics. He's from Swaziland and this is what he had to say about his new position at the college: 
"I believe being a garden intern/manager this summer will definitely challenge me because I will be working in a different climate, environment, and with a partner; which is a twist to gardening for me. I am excited to be a part of this experience because this will be more intellectually motivated, and thus I look forward to learning something new outside of my majors."
Phumelela and Asha will begin preparing the garden for production as soon as the Spring settles in, and have already begun meeting with past years' interns to become familiar with the duties and responsibilities in the garden. One of these responsibilities includes setting up campus Sale Days for community members to enjoy the garden produce. Another will be to manage the Lake Forest College Garden booth in the Lake Forest Farmers' Market – which is now managed by last year's garden intern, Sydney Fletcher '14. 
If members of the campus community are interested in volunteering in the garden or being contacted about Garden Sale Days, they should contact Environmental Studies Program Assistant Erika Rodriguez at erodriguez@lakeforest.edu
To follow the interns this summer, join them in the Facebook group – LFC Glen Rowan Community Garden.