<div style="background-image:url(/live/image/gid/32/width/1600/height/300/crop/1/41839_V14Cover_Lynch_Artwork.2.rev.1520229233.png)"/>
Medicine Across Borders (Long distance medicine)
Alexandra Reeder
Departments of Biology
Lake Forest College
Lake Forest, Illinois 60045
Download PDF
A new technology has emerged that is helping many people in impoverished areas obtain medical care. If implemented in medical schools, this emerging technology has the ability to serve as a teaching device to medical students around the world. Quite a few of our graduates here at Lake Forest College pursue medical school graduate studies, and knowledge of this up and coming technology could be beneficial to them after they leave Lake Forest College.
Imagine yourself as a pregnant woman belonging to a small tribe in Bolivia. No electricity, no running water, no OB/GYN and no state-of-the-art hospital to help you through your pregnancy. You have seen women in your tribe have unexpected complications during their pregnancy, so you are concerned for not only your health, but also that of your growing baby. In the midst of your concern you hear about a device that allows doctors from almost any country to monitor the health of your baby. The device can connect anywhere in the world that has a cell phone signal, making it accessible in many remote areas. The caregiver, or the doctor in the remote area can perform a variety of procedures, including ultrasounds, electrocardiograms, as well as auscultations, all while the specialists in the other country can observe the procedure through the attached camera. Think Skype, but instead of chatting with a friend across the country, you are face-to-face with another doctor from a different country while receiving medical care.
Long distance medicine encompasses a wide variety of procedures and specialties. By utilizing telecommunication and information technology, it is now possible to provide people with medical advice that they normally would not have access to. This technology is being utilized across oceans, but is also used in the United States, most notably in the rural areas of Georgia.
This new technology surprisingly came from collaboration between NASA, Henry Ford Hospital, Johnson Space Center, and Wyle Laboratories Inc. NASA sought to make an ultrasound machine that was portable enough to be used on space missions, as well as apply the technology to remote areas on earth. They created a device that can support remote ultrasound technology by "capturing, transmitting, and storing diagnostic-quality imagery and video" (Image-Capture Devices Extend Medicine's Reach).
A network of about 250 domestic medical care facilities have specialized carts equipped with Telemed cameras and monitors; these specialized carts allow many ailments, such as, sinus infections, bronchitis, asthma, psychiatric disorders, and even cancer to be addressed by a specialist. This network is important in areas where the closest physician could be hours away, which not only delays medical care, but also costs the state extra money. The state of Georgia has passed legislation requiring insurance companies to cover the cost of telemedicine care, in the same fashion that they would pay for in-person visits, which makes this less expensive alternative more attractive to patients. To entice doctors, the Telemed network handles web appointments as well as the transporting the necessary documents from the patient to the doctor via the network. This technology is also being used to diagnose and treat children with learning disabilities, such as autism, as well as investigate cases of child abuse and neglect; more than "100 real time" child abuse consultations occurred last year (King, 2011).
A similar program in eastern rural Georgia, near Augusta, called REACH (Remote Evaluation of Acute Ischemic Stroke) is working towards early diagnosis of stroke victims in rural hospitals. When a physician suspects a patient of being a stroke victim, they place a call to the 24/7 emergency stroke call center at the Medical College of Georgia (MCG), who connects the doctor to one of four on-call neurologists to do a consultation. The rural hospital is equipped with a REACH system that has a camera, which immediately transmits a live video feed, as well as, test results and vitals to the referring doctor. The neurologist makes a diagnosis and recommendations, while facilitating the transfer of the patient to the MCG facility for further treatment (GHSU Department of Neurology Stroke Program).
Other states such as California and New Jersey have implemented similar technology in their prisons, and have seen medical care costs reduced by two-thirds, which may help diffuse the controversy over the high cost of prison medical care (King, 2011).
This technology is helping people around the world receive medical care, and insurance companies are already coming on board. Medicare will cover the cost of such 'telemedicine' services, as long as they take place in an approved health facility—in other words, not in personal residences. In addition, states like Georgia across the country are passing legislation requiring insurance companies to cover telemedicine as they would any other on-site medical care. With the health care system still not up to par in other countries, telemedicine may well be the future of medical care.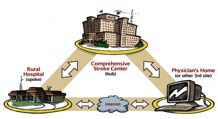 A simple diagram outlining how the telemedicine network of the REACH program in rural Georgia functions.
 
References:
"GHSU Stroke/Telestroke Network." GHSU Department of Neurology Stroke Program. Web. 23 Dec. 2012.
King, Mike. "Georgia Takes Lead in Long-distance Medical Care." Georgia Health News RSS. Web. 23 Dec. 2012.
"NASA - National Aeronautics and Space Administration." NASA. Web. 23 Dec. 2012.
Note: Eukaryon is published by students at Lake Forest College, who are solely responsible for its content. The views expressed in Eukaryon do not necessarily reflect those of the College. Articles published within Eukaryon should not be cited in bibliographies. Material contained herein should be treated as personal communication and should be cited as such only with the consent of the author.