<div style="background-image:url(/live/image/gid/20/width/1600/height/300/crop/1/40469_Speednetworking3_edited.rev.1510946462.jpg)"/>
<div style="background-image:url(/live/image/gid/20/width/1600/height/300/crop/1/40780_31484_finance_1.rev.1513697699.png)"/>
<div style="background-image:url(/live/image/gid/20/width/1600/height/300/crop/1/40467_Speednetworking2_edited.rev.1510942416.jpg)"/>
<div style="background-image:url(/live/image/gid/20/width/1600/height/300/crop/1/29606_internships_and_experience_1.rev.1448900255.jpg)"/>
<div style="background-image:url(/live/image/gid/20/width/1600/height/300/crop/1/35592_shot02-041_v2.rev.1487090405.jpg)"/>
<div style="background-image:url(/live/image/gid/20/width/1600/height/300/crop/1/40781_art.rev.1513697706.jpg)"/>
<div style="background-image:url(/live/image/gid/20/width/1600/height/300/crop/1/40779_31485_business.rev.1513697684.jpg)"/>
<div style="background-image:url(/live/image/gid/20/width/1600/height/300/crop/1/40782_science.rev.1513697713.png)"/>
<div style="background-image:url(/live/image/gid/20/width/1600/height/300/crop/1/40783_law.rev.1513697721.png)"/>
Career-A-Palooza goes virtual to help students stand out in the job market
When in-person events were canceled due to the COVID-19 pandemic, the Career Advancement Center shifted their annual conference-style career planning event Career-A-Palooza to a format all students could access, even if they were not on campus.
"Career-A-Palooza is a program in which students from all majors can learn how to stand out in the job market and in graduate school applications," said Director of the Career Advancement Center Colleen Monks. "Covering topics to help them enhance their resumes, LinkedIn profiles, and virtual interviewing skills is even more crucial right now, and we were determined to find a way to make this event happen."
The CAC quickly adapted the format to host the event virtually on Zoom. A slate of alumni, faculty, staff and employer partners led virtual presentations throughout the week, with topics ranging from how to ace a virtual interview to developing a scientific resume. The event was a hit, with over 300 viewings throughout the week and overwhelmingly positive feedback on event surveys, and it was also opened up to provide support for alumni College during this time.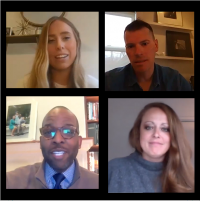 Martino Moore '99 is one of several alumni who presented at Career-A-Palooza Goes Digital. (Clockwise from top left: Sydney Gardner '18, Bryan Bertola '02, Katie McCann '03, Martino Moore '99. Not pictured: Andre Meeks '09.)Martino Moore '99, Executive Director on the Institutional Salestrading desk at Morgan Stanley, kicked off the week with a message to students about how their liberal arts skills will allow them to adapt to an ever-changing job environment. "As a proud alumnus, it was my honor to be a part of such a fantastic program," he said. Moore emphasized in his presentation that "leveraging those critical thinking skills that a liberal arts education provides allows students to analyze, assess, and evaluate ultimately helping them be a success in any field they plan to explore."
Several committed students such as Self-Design major Natalie Kiely '21 carved out time to attend every session that was offered throughout the week. Kiely said that over the week she learned that as she continues to network, "It is equally just as important to have a well-structured LinkedIn page, constantly follow up with the people hiring, and to always build our personal brand. It's important to have good credentials but it's also important to be someone a company wants to work with."
"To engage students virtually, we continued incentives we had planned to hold in person, including a raffle for gift cards and even Lollapalooza tickets," Monks said. "We also added a virtual chat feature to allow students to send in questions in real time."
Art History major Ashley Canner '21 particularly enjoyed the opportunity to ask questions in an intimate setting with the presenter. "I was able to take great notes. I am looking forward to work on my LinkedIn page and take advantage of what is on there while using the tips and tricks from the presenters."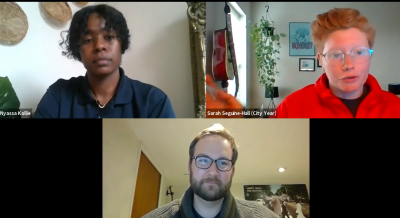 CAC Associate Director Ben Rohde (bottom) moderates the session "Careers for a Cause." Representatives Nyassa Kollie from Peace Corps (left) and Sarah Seguine-Hall from City Year (right) gave advice to students interested in making a difference at the start of their career.Neuroscience major Maggie Kersting '22 especially appreciated the benefit of offering virtual content for students. "Making this event online was a great way to ensure that students still had access to all the important information that was conveyed despite being away from campus."
"One of the things that became clear from the speakers was that your path might not always be straightforward and sometimes you will find jobs that you don't love, but you can use these experiences to better yourself and find what you are truly passionate about," Kersting said. "By trying out different things, you can eventually find work that is meaningful and personally fulfilling."
"We are incredibly grateful to the alumni, faculty, and other professionals from our network who contributed to this event to support the many students who tuned in," Monks said. "We structured the event to provide actionable takeaways for every student, which we know will be invaluable to students as they seek internships and jobs this summer and beyond."
The benefit of the event will continue long after the conclusion of the sessions. All Career-A-Palooza Goes Digital resources, including recordings of each session, presentation slides, and digital handouts are accessible for students on Handshake. (Alumni, faculty and staff can request Handshake accounts by emailing careers@lakeforest.edu.)