<div style="background-image:url(/live/image/gid/198/width/1600/height/300/crop/1/50546_Middle_South_drone1.rev.1554236092.jpg)"/>
CAC connects virtually with students for internships, career needs
The Career Advancement Center's virtual doors remain open from 8:30 a.m. to 5 p.m., Monday through Friday to provide valuable career resources, help students connect to the broader network of Forester alumni and employers through virtual programs and platforms, and assist with internship and job searches or graduate school applications.
To continue to move forward with career planning right now—and to make the most of the career planning resources available, the CAC encourages students to take these simple steps to start:
Check Your Inbox (and Your Clutter Folder) for Your Pathway Newsletters: Every other Tuesday at 11 a.m, be sure to review the latest list of available internships and jobs, announcements about opportunities to virtually engage with alumni and employers, webinars, and other virtual career resources. Watch for the next list tomorrow, Tuesday, April 7. 
Students should check that their Pathway Newsletter was not delivered to their email Clutter folder by accident. Those who need to update their Pathway Newsletter preferences should fill out this form to do so before next Tuesday, April 7.
Students will also receive special career planning emails throughout the semester. The CAC urges students to take a moment to review the associated Career Planning Checklist or Career Planning Checklist for Seniors for tips on career preparation and how to strengthen their professional skills in a digital environment.


Connect with the Career Advancement Center Virtually: Take advantage of all of the career resources the CAC and Handshake have to offer, including Pathway-specific resume samples and a Guide to Building a Resume, the latest industry insights via Vault, access to available internships and job opportunities, and much more. Students are encouraged to schedule a virtual appointment with their career advisor on Handshake via phone or video.
Participate in Upcoming Virtual Programs and Webinars: Students should stay tuned for updates to the events page on Handshake and their  next Pathway Newsletter for virtual programs, which will be offered in the coming weeks both by the CAC and by employers, including virtual Career-A-Palooza programming coming later this month and other opportunities to connect with Forester alumni and employers.
"If students have any questions, they should not hesitate to reach out, and we will try our best to make sure they have all the resources they need to continue to plan for their future with our help," Career Advancement Center Director Colleen Monks said.
Students are reminded they can contact the CAC by:
Already, the CAC has transitioned close to 100 academic interns into remote internships or the online curriculum.
"Our employers currently hosting Lake Forest College Academic Interns have been incredibly adaptable and are eager to have our students continue working with them remotely, where possible," said Associate Director of Internships Jennifer Lazarus. "Approximately half of our Academic Interns have been able to transition quickly to virtual work with their original internship sites. The remaining interns are participating in our online Academic Internship curriculum, led by CAC internship specialists, to successfully complete their spring internships. This online curriculum is varied to keep students engaged, and is strongly focused on developing students' professional skills.
"Our students continue to demonstrate remarkable resilience and are making the most of their new internship experiences. They remain engaged and positive and we at the CAC look forward to the opportunities and unique stories that will surely flow from these experiences. We're confident that our students will be able to finish out their Academic Internship experiences strong."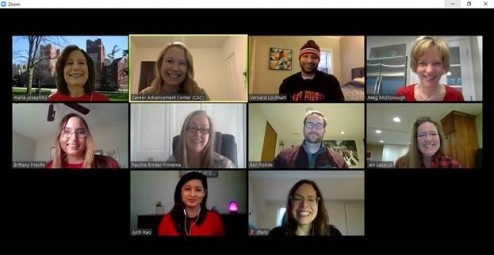 The CAC team meets via Zoom.