<div style="background-image:url(/live/image/gid/198/width/1600/height/300/crop/1/50546_Middle_South_drone1.rev.1554236092.jpg)"/>
Faculty shift to remote learning
With the first week of online learning under their belts, faculty transitioned to a new instructional environment and bridged the physical divide with students, maintaining the personal connection they established before the COVID-19 pandemic struck the US.
For classes like Professor Holly Swyers' Introduction to Sociology and Anthropology, the first session via Zoom focused on what the reaction has been like where each student is sheltering—three are overseas in Costa Rica, Turkey, and the Republic of Georgia, and the others are fanned out across the US in Arkansas, Arizona, Florida, Hawaii, and Illinois. Several are sheltering in place on campus.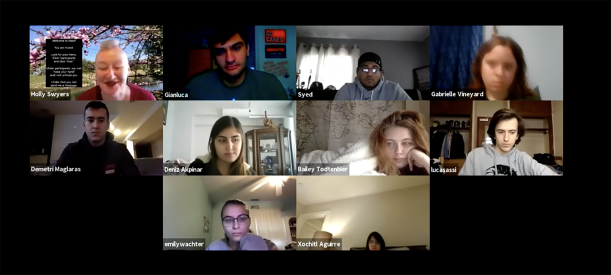 Their varied backdrops offered "an obvious teachable moment" during the first class back, Swyers said. "We're learning about connecting social structures to personal experiences. We got to have a discussion around COVID-19, which is exactly what the class was supposed to be covering anyway."
Like all Foresters who met face-to-face in small classes before spring break, Swyers' students adapted to the new virtual environment. "We all know each other, so nobody was shy about raising their hand," she said.
Associate Professor Rebecca Graff luckily is not conducting an archaeological dig this semester, but the primatology unit in her SOAN 220: Domains of Human Evidence class called for a new approach, as the group treks to Lincoln Park Zoo to observe primates firsthand is no longer an option. Instead, Graff has found cameras livestreaming monkey and gorilla activity online, which will allow her to adapt this important exercise to the new learning environment.
In the Lillard Science Center, professors raced to videotape themselves performing experiments in less than two weeks, before Illinois' shelter-in-place order took effect.
"We've got a good system in place," said Assistant Professor of Chemistry Will Conrad. "It's definitely been a whirlwind, but everyone stepped up. It's been really amazing."
During his lab time for BIO 221: Molecules, Genes, and Cells and CHEM 116: Chemistry II, which begins today, students will be paired up in breakout rooms, where they'll analyze the data and work the problems associated with the experiments. Conrad will pop in and out of the discussions to see how each group is doing. Everyone will meet back together in Zoom as one pair explains their findings and analysis to the rest of the group.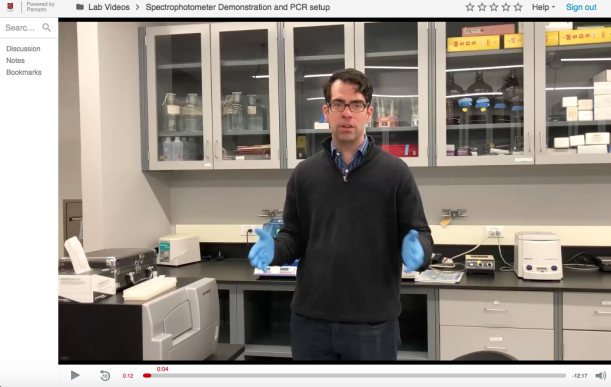 Screenshot from one of Assistant Professor Will Conrad's remote labs.
"A lot of the lessons I'm learning from this experience, I'm going to apply in the future," Conrad said. "I can see myself doing Panopto lectures that students will view before class so that they can spend in-class time working hands-on—less me lecturing them."
Assistant Professor of Music and Chair of Music Education Anne Barry also uses breakout rooms for her music education class and her two choir classes. 
"We can't sing together, because the time lag is a real challenge," she said. Instead, Barry brings together each section of the choir at staggered intervals—sopranos, tenors, altos, and basses—and places students in separate breakout rooms in pairs to work together, and then hear them individually to offer personalized instruction.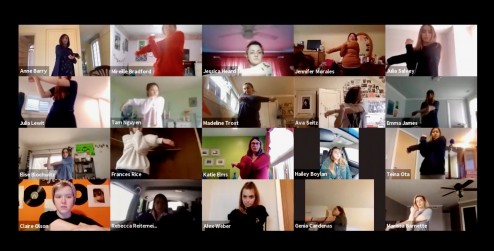 Members of the Women's Chorus meet over Zoom.
"Ordinarily, our product is a concert and we're rushing to learn the music in seven weeks," she said. Under remote learning, Barry has found more time to place the music in historical and social context.
"If you understand where the music is coming from and you know the stories behind it, it's just more meaningful to you as a performer," she said. 
Associate Professor and Chair of Music Nick Wallin faced a similar scenario with his instrumental students.
"The real challenge for us is with our ensembles," he said. Luckily each student has an instrument at hand, so they will record themselves individually and share those tracks with Wallin, who will compile the tracks digitally to create an orchestra. 
"We're starting with the Alma Mater, because it is pretty quick to put together, and not a complicated piece," he said. "We also still really want to recognize our graduating seniors and send them out with a joyful sound."
President Schutt and other administrators recently conducted a check-in meeting via Zoom with the Parents Council to gain their perspective on how students are doing and their insight on how the College can offer support. The College is going to continue these meetings as the semester progresses.