<div style="background-image:url(/live/image/gid/198/width/1600/height/300/crop/1/50546_Middle_South_drone1.rev.1554236092.jpg)"/>
Foresters reach out to help others during crisis
When students learned they had a week to return to campus and clean out their rooms before Illinois imposed a shelter-in-place policy, Foresters pitched in to help those who couldn't make it back to complete the task by the March 23 deadline.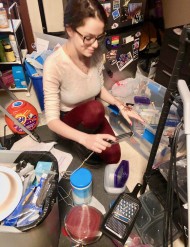 Sandra Khouri '20 FaceTimes Ayda Taksir '21 in Turkey.Sandra Khouri '20 and Sayre Milo '22, who both live about an hour from campus, offered to help Ayda Taksir '21, who was at home in Turkey for spring break and couldn't get back to Lake Forest following the outbreak of the crisis in the US. 
Communicating with Taksir via FaceTime, the two packed up her room and are storing her belongings until campus reopens.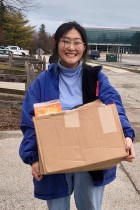 Esther Kim '22 Esther Kim '22 and Naqi Rizvi '21, both residents of the Chicago metro area, helped move items and collected donations of perishable goods and cleaning supplies for students permitted to shelter-in-place on campus. 
Unable to return home to South Africa, Graeme Witte '22 is staying with his roommate Mathieu Norcross '22 at his family home in Michigan. The two joined others, including Sarah Burchart '22 of Michigan, Kylie Morgan '22 of North Carolina, and Kerry Mullen '22 of northwest Illinois, to help back on campus. 
"When we got the news that the College was going to be closed for an extra week, my son immediately jumped in the car and drove four and a half hours to Lake Forest to pick up his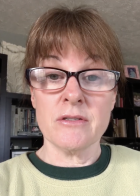 Parent Anne Norcross
roommate Graeme," Anne Norcross said in a video she made about the move-out. Witte will stay with the Norcross family in Michigan until campus reopens, she said.
Riley Frisbie '20 and her family were happy to host three of her Forester friends at their home, located 40 miles southwest of campus, during the extended spring break. Once the announcement to move out of campus was issued, the Frisbie family sprung into action. 
"I took a half day off work, and Riley and I, along with my son, headed to the College to assist in moving everyone out," Riley's mother Katie Frisbie said. 
Faculty and staff also helped out during the move out and in other ways. Faculty and staff in the Lillard Science Center collected and donated all the lab gloves, face masks, and disposable lab coats no longer needed during virtual learning and took them to hospitals in Highland Park and Lake Forest—a much-needed donation completed before the Illinois stay-at-home order began.
Foresters helping others
Foresters reached out in a number of ways to helps others during the first week campus closed because of the COVID-19 outbreak. 
—Peter DiPietro '20