<div style="background-image:url(/live/image/gid/198/width/1600/height/300/crop/1/50546_Middle_South_drone1.rev.1554236092.jpg)"/>
Tianna Beilke '21 interviewed about season cancellation
Forester runner Tianna Beilke '21 was among a group of local athletes interviewed about the sudden end to their college sport seasons as a result of COVID-19.
The following article appeared in the Chicago Tribune's Lake County News Sun on March 19, 2020:
Lake County college athletes, like Lake Forest runner Tianna Beilke, are 'all kind of in shock' after the coronavirus pandemic ended their seasons
Lake County News-Sun
For Lake Forest College runner Tianna Beilke, the weeks and likely months ahead will feature her own "personal" time trials, a lot of solitary runs and trying to look forward to cross country in the fall.
For Trinity International pitcher Kurtis Sippy, the next spate of competition might be an ad-hoc group of guys playing games all around Lake County, a goal subject to change by the lightning speed of breaking news.
For College of Lake County baseball coach Heath Cummings, the pep talk to his players was "stay healthy, and the sun will come up tomorrow," when they all realized they had no more season to play after it barely had started.
These and other emotions are being processed by area college athletes, coaches and administrators dealing with the shutdown of spring sports over the past week due to the coronavirus pandemic.
A slim silver lining among the perfect storm of a highly communicable virus and of governments and a health care system straining to slow it down is that eligibility will be extended another year. But when or how normal competition will resume is as up in the air as anything in these unprecedented times.
Even the extra year of eligibility has a downside.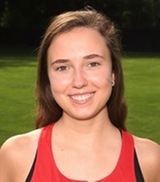 Tianna Beilke '21
"A lot of teammates don't want to stay an extra year in school," Beilke said.
Sippy added: "A lot of guys don't want to pay out of pocket."
Beilke, a Lake Forest High School graduate who lives in Vernon Hills, had high hopes for her junior track season in the 800 meters and the mile. She finished the mile in 6 minutes, 27.38 seconds in a recent meet at Carthage College. She has been on a long road to peak performance after riding horses in high school, falling off one and being concussed after the horse ran her over.
"For sports as a whole, we're all kind of in shock," Beilke said. "Everyone was having high hopes of a national championship. We have a new coach in Jim Akita and were excited for that. We have close team spirit, and we'll keep in contact through group chats. I'll keep running, and there are a lot of good trails around here.
"A lot of seniors were leaders on the team. To have them disappear was hard. We'll keep in touch over the summer."
For Sippy, a College of Lake County product, the simple act of keeping one's arm limber and staying in shape is a challenge, given health officials' advice to stay away from crowds.
The junior right-hander does not have a personal catcher to whom he can throw. Organized workouts at Prime Athletics in Grayslake had to be curtailed after owner John Snelten had to close due to the need for social distancing.
"It's very frustrating, but you have to make the best of it," Sippy said. "You can always find an outdoor batting cage. I have some dumbbells in my house."
Sippy pitched at CLC for Cummings, a Zion-Benton graduate who coached at the high school level before he moved to the community college ranks.
Cummings was overjoyed about CLC's 5-2 trip in Florida, but the pandemic put a damper on its conclusion. Before the players got on the plane for home, Cummings had to take their temperatures and report them to his athletic director.
"I apologized to them," Cummings said. "This was the best team I had for recruiting and athletes in 10 years at CLC. I apologized to them, but there's something more important to them than athletics."